Back in August Huddersfield took to Premier League football like ducks to water, winning their first two games with ease and even enjoying a spell atop the league table.
Now though, as they slide into the bottom half of the table, it's starting to look ominous for David Wagner's men.
It's four games since Huddersfield even scored a goal and after six without a win, matches against Manchester United and Liverpool are about as welcome as Donald Trump at an NFL game.
The fixed odds bookies, scratching their heads after the Terriers opened their debut Premier League season with wins against Crystal Palace and Newcastle without conceding a goal, have moved this week to again make Huddersfield odds on for the drop, and unless something changes quickly, it's hard to disagree,
Wagner, who talked confidently about his defensive system, how underrated his unknown players were, and how their system was working a treat, is now left bemoaning bad luck and pleading to be given a break.
Huddersfield's early success was based on a solid, well organised back four, with Aaron Mooy, their £10million summer signing from Manchester City, running the midfield, and £11.5million record signing Steve Mounie leading the line.
For their latest defeat, 2-0 at Swansea, Wagner made the first change in his back four this season, bringing in Scott Malone at left back in place of Chris Lowe.
In midfield Mooy was absent, dropped to the bench, although he had been halfway across the world with the Australian national team, where he was controversially left out of the Socceroos' defeat of Syria.
The combative Aussie, who came on at half-time at the Liberty Stadium, leads the Premier League in total tackles made after eight games, and is the talisman this team is built around.
Mounie looked to be the man to score the goals that might give the Terriers a chance of survival, scoring twice in the 3-0 win at Palace in the season opener, his debut appearance after arriving from Montpellier.
But the 23-year-old suffered a heel injury in the 2-0 defeat at West Ham on September 11 and hasn't been seen since. Wagner hopes to have him back for the United game, with replacement Laurent Depoitre, struggling, like the rest of the team, to find the back of the net.
With the back four creaking under the pressure, the midfield not firing as it was, and their star striker out injured, if it's not already a crisis, it's very close.
Add to that the high intensity pressing game which has become a staple of Wagner's team seems to be taking its toll, with fatigue setting in.
Unlike just about all of his rivals, it's unlikely Wagner's position will come under pressure. Crystal Palace and Leicester have both dispensed with the services of their managers already this season, but barring any great disasters, it's likely the Terriers will stick with the highly rated Wagner, confident if the worst does happen and they return to the Championship, he is the man to bring them straight back up.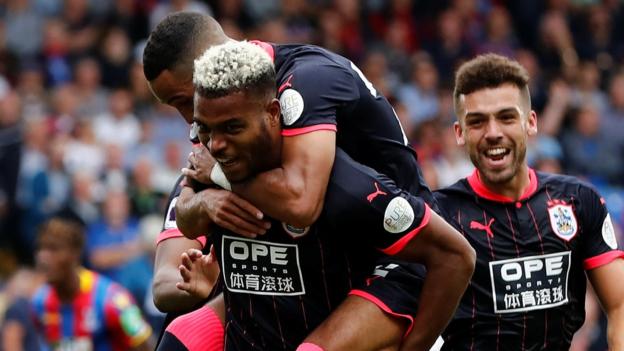 For a team enjoying top flight football for the first time in 45 years, immediate relegation is unthinkable, but it's becoming a probability rather than a possibility the longer this run goes on.
Getting anything from United or Liverpool may be beyond Huddersfield, but they're still crucial games.
Close defeats while breaking their recent scoring drought and remaining competitive might spark their season back into life. A couple of thrashings on the other hand could see the dark clouds descend even further.
It doesn't look good for Huddersfield. No win since August and only one goal scored since.
Now is the time to put things right.