Sunderland have suffered the ignominy of a second successive relegation and with an owner who has washed his hands of the club, a crippling £140million debt and a reduction in television revenue of 98% in two years, they're a club staring into the abyss.
Relegation is the worst thing that can happen to their beloved club for every football fan, but it can sometimes lead to much-needed change and be seen as the start of something positive.
Indeed, having seen neighbours Newcastle suffer the Premier League drop in 2016 before a rebuild and an instant bounce back as champions, many Mackems felt that after a series of near misses, the fact that they'd finally fallen into the Championship last year might be the catalyst for change and the chance to build a team for them to be proud of.
The reality is that after a farcical summer, a series of embarrassingly listless displays and a season of terrible results, the club are adrift at the bottom of the Championship and already relegated to the third tier for just the second time in their history.
This time around, it's hard to find anything positive about relegation. Rather than a swift rebuild, clearing out the dead wood and cashing in on any players too good to play outside of the Premier League in order to rebuild with a team of hungry Championship players, what lies ahead is games with Accrington Stanley, Fleetwood and Southend.
They will be playing in the FA Cup First Round in November rather than entering with the big boys in January and in the Checkatrade Trophy not as an invited Academy side, but the first team, where they will likely face Newcastle's Academy just for maximum embarrassment.
Unsurprisingly, Sunderland's share of TV money, which went down by a huge amount last year because of their relegation from the Premier League, reduces still further as they head into League One.
Two years ago they enjoyed more than £93million as their share of the Premier League deal. They reduced to £7million this season in the Championship, and will be less than £1.5million next season in the third tier.
There are, of course, parachute payments from the Premier League which will pay £33.5million next season, having been £41million this.But with reduced crowds and merchandising, crippling debt and a huge wage bill, that doesn't go far.
This season's wage bill was a hefty £35million, even after almost all the players suffered 40% wage cuts thanks to their relegation from the Premier League. Only the players signed this season have League One cuts in their contracts and will suffer a 50% reduction in wages, those who signed for Premier League Sunderland never envisaged playing in the third tier.
One exception is Jack Rodwell, the former England midfielder who has been picking up £70k a week for not playing for the worst team in the Championship.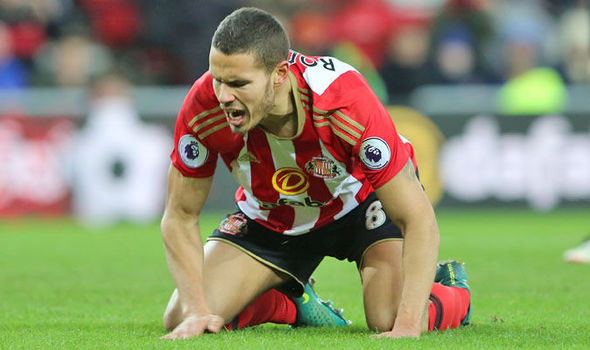 The £10million signing from Manchester City, who has played just three times for Sunderland this season, didn't get a pay cut this season, but will next, down to 'only' £44k a week in a division where the average wage is around £100k a year!
There will of course be a mass clearout, but Sunderland have no players of any real worth and it's unlikely that will fund a rebuild.
The seven loan players will return to their parent clubs, and the four out of contract will be shown the door.
If clubs can be found for the bigger wage earners such as the likes of Wahbi Khazri, the Tunisian international midfielder signed for £9million by Sam Allardyce in 2016, and Papy Djilobodji, an £8million Senegal international defender bought by David Moyes later the same year, they will be ushered out.
Both Khazri and Djilobodji have spent the season on loan in France, with Rennes and Dijon respectively, though according to French newspaper L'Equipe, that is costing the Black Cats plenty, with their contribution to the players' wages coming to nearly £30k a week!
Parachute payments sound great until you realise situations like Rodwell, Khazri and Djilobodji cost Sunderland £100k a week and none of them even play for the club!
Of the 12 players Sunderland circulated as available for transfer on relegation from the Premier League, only two were actually sold, goalkeepers Jordan Pickford for £30million and Vito Mannone for £2million. Rodwell, Khazri, Djilobodji and the rest remained, with the latter two both heading to France on the last day of the summer transfer window as it became obvious no one was interested in paying for them.
Sunderland's performance in the transfer market has been farcical for some time. During the 10 years since billionaire Ellis Short bought the club, Sunderland have made more than 80 permanent signings, and only six have been moved on at a profit.
That shambolic mismanagement, as well as the on-field slide into the abyss, may explain why the American seems to have completely washed his hands of Sunderland and is looking for an exit as quickly as possible.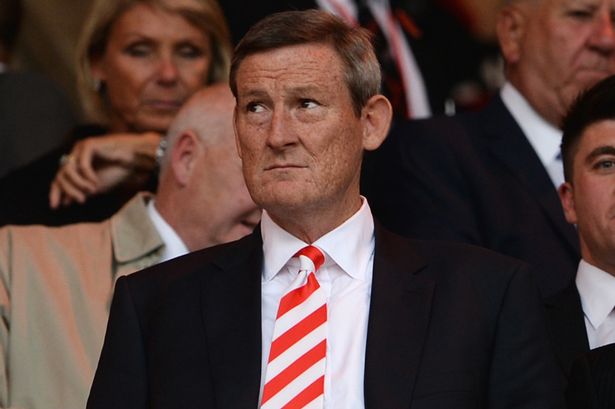 He's said to have invested close to £200million keeping the Black Cats going, writing off £100million, and is now ready to walk away.
Chris Coleman, the highly regarded former Wales manager who took over this rudderless ship from Simon Grayson in November, has never even spoken to the owner in his five months at the club, an astonishing fact.
Short, a hugely successful investor who is not used to this kind of failure, wants out. It was thought he had got his wish last summer, when talks were at an advanced stage with a German consortium before the plug was pulled on June 29.
With David Moyes having quit the club in May, Sunderland were still without a manager, never mind any new signings or having started what is always a huge rebuilding job when clubs go down to the Championship, and another season of slapdash madness ensued.
Aberdeen's Derek McInnes turned the job down (it seems they were right in him being a shrewd judge) and the unexciting Grayson was installed the day the takeover talks ended, also the day the players returned for preseason training!
With a raft of players heading out on loan, 10 signings were needed just to bring the squad up in numbers, but having brought in £30million in players sales, Grayson was given just £1.25million to spend.
A bright start - draws with Derby and Sheffield Wednesday and a win against Norwich - were a false dawn, and 13 winless games spelled the end for Grayson, having won just one of his 15 games in charge with Sunderland languishing in 22nd.
One of the few successes of his tenure was the loan signing of Lewis Grabban, who scored 12 in 19 games for the Black Cats. However, the Bournemouth man asked for his loan spell to be cut short and moved to Aston Villa in January. Comically, he's still Sunderland's top scorer this season by quite some distance.
Coleman's arrival was heralded, and it was presumed he would have money to spend in January, but he's never even spoken to the owner, let alone be granted a transfer budget, and despite a brief bounce soon after his arrival, the Black Cats have reverted to type and an embarrassing home defeat against fellow strugglers Burton, including a goal by former Sunderland hero Darren Bent, sealed their fate.
Short is seen as the bad guy (or at least one of them) in all this, and understandably so. But he has lost plenty on his dalliance with 'soccerball' and you can't really blame him for having enough.
It's said he will now give the club away for free to anyone willing to take on the near £140million debt, an amazing comedown given he had placed a £170million price tag on Sunderland just two years ago.
Around half of the debt is owed to Short himself, and he's also said to be open to negotiation on that too.
Bottom of the Championship and the first team to have their relegation to League One confirmed at least gives Sunderland maximum time to try and get their house in some semblance of order for the new season.
Coleman says he wants to stay, and while the club's Under-23 team have followed in the first team's footsteps and been relegated to PL2 next year, they do have some Academy products in George Honeyman, Lynden Gooch and Josh Maja, plus Duncan Watmore to come back from injury, to lead their first campaign at this level in 30 years.
Average attendances have remained over 27,000 despite the terrible performances, though often the best way to beat the rush has been to stay til the end, with the added bonus of getting to boo off the sorry excuse for a team.
The success starved Sunderland fans just want a team to be proud of, that fight for them and each other, give 100% and are proud to wear the shirt, and even in League One if they can find that, don't be surprised to see 40,000+ back at the Stadium of Light.
There's great potential for anyone with the vision and skills to take Sunderland forward. But the way the club have performed in recent years, a third successive relegation and playing in the bottom division for the first time in the club's history looks just as likely.
What does the next chapter have in store in the Sunderland horror story?