It's that time of year where NFL franchises get the opportunity to boost their squads, or should I say 'rosters', from this Thursday night. We'll be running a Prediction game on the draft, where you have to answer a number of questions on key events such as which player will be drafted first. But in the meantime, here's our preview ahead of the draft, by Simon Williams:
What is the draft?
Each year, NFL teams get to pick from the thousands of college players who want to play in the professional league. Only a select few make it and the first round of the draft is for the elite of the elite.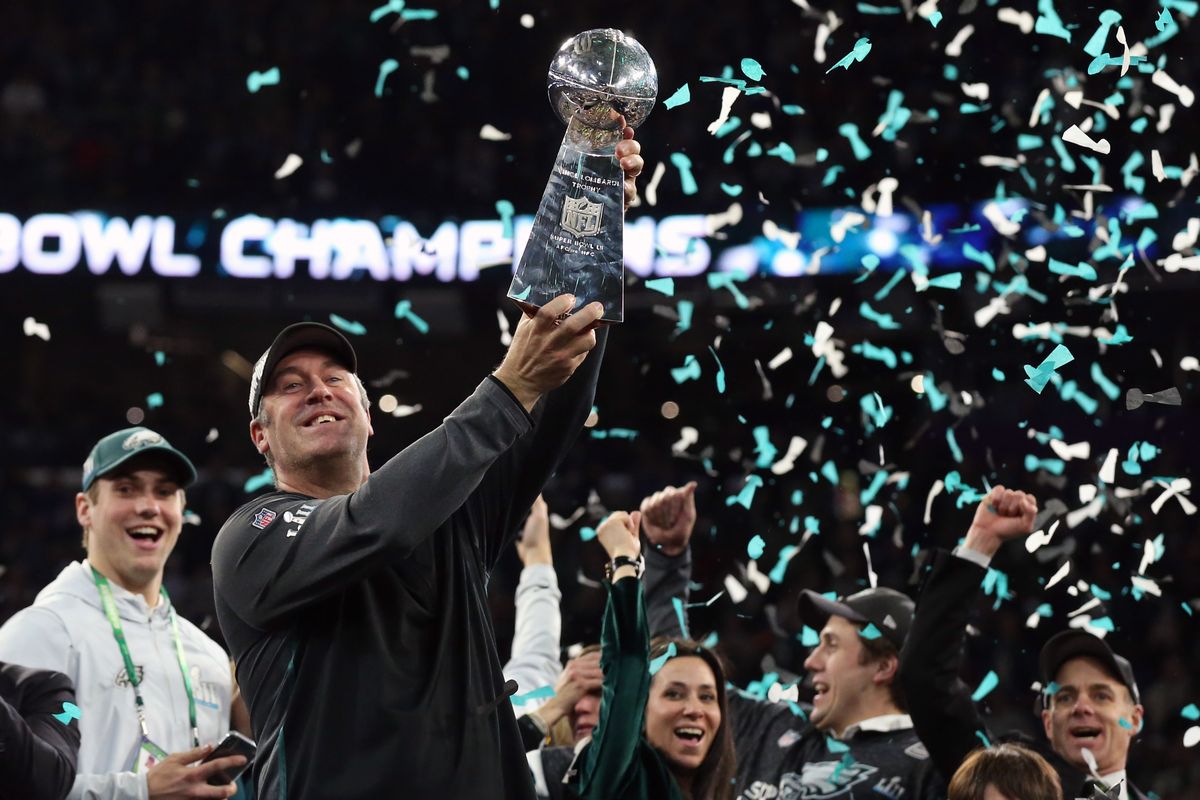 How does it work?
The 32 teams take it in turn to choose a player, who will then play for that team on his first contract. After the 32nd pick (the last on Thursday night), the order then restarts with the second round and third round on Friday, through to the seventh round on Saturday.
The order is decided by how badly you did last year, so the team with the worst record in 2017 (the 0-16 Cleveland Browns) pick first, while the Super Bowl champions, the Philadelphia Eagles, pick 32nd.
While in theory, each team will get a pick in each round, in practice, it doesn't work like that. Teams can trade their picks for established players, or even for other picks, so Cleveland has the 1st and 4th pick this year, having made a trade last year with Houston. Houston had a surprisingly bad season, owing to a number of injuries to their best players, which meant they had a much worse record than expected. With that, Cleveland ended up with a better (higher) pick than they would have anticipated last year. The New England Patriots traded wide receiver Brandin Cooks to the Los Angeles Rams and now have two first round picks: the Rams' 23rd pick and their own 31st (for being Super Bowl runners up).
For each pick, the team is 'on the clock' for 10 minutes in the first round, so they have 10 minutes to decide who they want to select. In that time, they could be discussing who they want – a new quarterback, a playmaking wide receiver, a big bruising lineman, a lump of muscle to protect the quarterback, a nifty defender or anything else – or they could be trying to agree a trade for their pick from one of a number of suitors.
Before the clock runs down, they must make their decision and hand it in on a piece of paper. The Commissioner, Roger Goodell, will read out the selection and the player will then be that franchise's newest star. A packed auditorium of fans (in Texas) will cheer or boo the selection (and the Commissioner) and commentators and journalists will tell you with a straight face that's exactly who they expected to be picked. Or not.
A system designed to bring fairness
The idea of picking in reverse order of performance last year is that the worst teams get the best players from the colleges and the best teams have to wait. Of course, it doesn't always work that way, as teams can't be certain whether a player's performance in college leagues against fellow 18-21 year olds (most of whom will never play beyond that level) will translate to the big league. These lads have developing bodies who will suddenly have a lot of money and a lot of public interest. Many will be moving to places they've never been to before, far away from home. Distractions, physical demands and the intensity of elite sport can all play a part.
On the flip side, there are some great players who weren't thought highly of, coming out of college: Hall of Fame quarterback Kurt Warner didn't even get drafted in 1994, nor did the best kicker in the NFL, Justin Tucker, in 2012. The most famous is Tom Brady, who was pick 199 (sixth round) in 2000 – no one wanted him and he's turned out to be the best QB of all time.
Part of it is pure luck – for every Russell Wilson there's a dozen Brandon Weeden's – part of it is coaching and part is the wisdom of your scouting network. The Patriots have stayed at the top for so long, in defiance of the equality the draft should bring, because they have drafted wisely and coached exceptionally. Contrast that with Cleveland, who have done neither and have been terrible for quite some time.
Need or BPA?
Who you draft tends to fall into one of two categories. Firstly,  you can look at your roster, decide where your holes are and try to fill them first. A team that needs a quarterback, for example, because their current one has retired or moved on (or is rubbish) will need a new one. That will apply to teams like the New York Jets, who desperately need a face of their franchise to lead them from cellar-dwellers to the playoffs. The Steelers need a linebacker. The Ravens need a wide receiver. And so on.
The alternative is BPA (best player available): that's where you take the highest graded player you have on your list, regardless of where he plays and irrespective of whether you're already strong in that area. Cleveland will probably have that in mind with the 4th pick.
All teams are under a salary cap, so no team is perfect: you can't afford stars everywhere in your squad, so there will always be areas you can improve on. The drafted players are on lower salaries for their first contract, which enables teams to bring in good players on the cheap…provided they can pick the right ones.
Quarterback premium and the fifth year option
Much like strikers in (our) football, quarterbacks get paid more than everyone else in the NFL. The league has become more about passing than running and nine-figure deals over five years are increasingly common for established starting quarterbacks. If you can find your new guy, keeping him on your roster on the cheap is massive. The first round selections come with an option to keep them on their old contract for an extra year, which enables teams to hold onto their premium talent for a lot less than he'd command on the open market.
Stick or twist?
Every team will have their own list of who they like and where they rank the players. They will also know their team's needs better than anyone and they will have a strategy for the draft. For some teams, this is a strategy shared amongst the coaches and scouts, in collaboration with the top brass. For the Patriots, Bill Belichick decides and sometimes that causes jaws to drop, when he does the opposite of what people expected. He's usually right, mind.
As the time on the clock is starting to come down to you and the player your team wants is still there, you have to decide whether to try to trade up to make sure you get him (you'll have to pay the other team to do so – usually with other picks you have this year or next) or ride it out, wait and hope he's still there. Those 10 or 20 minutes will feel like agony for the teams holding their nerve. As a result, you'll see a few teams moving up one place, just to secure the man they wanted, and to stop anyone else gazumping.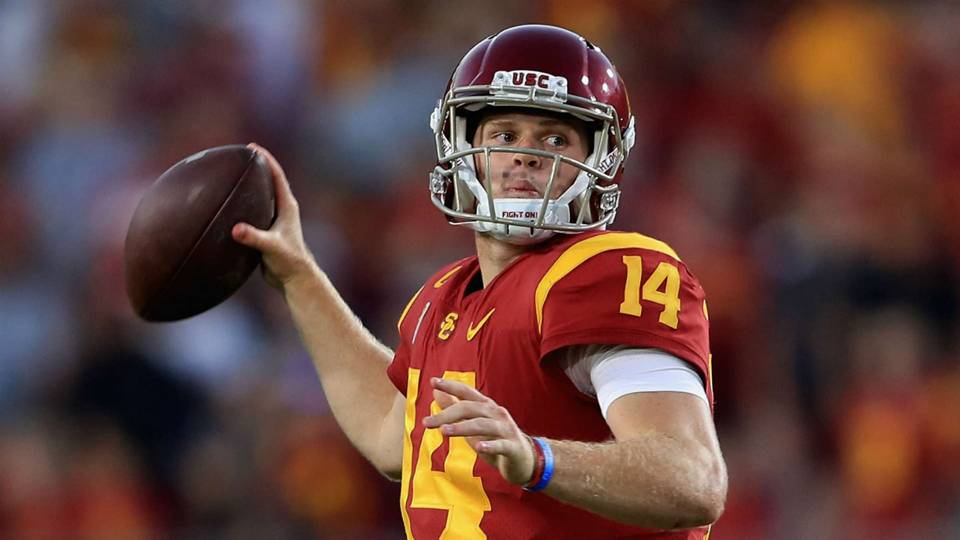 First pick
Cleveland had a big overhaul after their 0-16 season, making a lot of changes in the office. The pure analytics (moneyball) system is gone, with a more traditional system of football nous leading the decision-making process. This will likely mean Cleveland doesn't trade down from the first pick and instead chooses their newest shirt-seller.
They already have a quarterback, having acquired Buffalo's Tyrod Taylor. However, he's probably just a stop-gap and the idea is generally understood to be that Taylor will be there for a year, while a new QB learns the ropes, away from the pressure of the public eye, before moving aside.
The choice seems to be down to three.
The bookies' favourite is Sam Darnold, a quarterback from USC. He's a natural leader with a solid all-round game, good pocket presence and is well thought of by the experts. He has had some criticism for interceptions, but it is fair to say he hasn't been helped in college by poor receivers.
If they choose a different quarterback, Cleveland will be taking Wyoming's Josh Allen, whose performance at the Combine (the event where the college prospects get to show off their skills in front of the press and the scouts in one go) was very impressive. He has a cannon for an arm and Cleveland have a big receiver in WR Josh Gordon and a quick one in Corey Coleman, who will enjoy the prospect of beating people downfield.
The alternative is to take Saquon Barkley. He's a running back out of Penn State and has been described as the best prospect for a generation. He's superb as a runner, at bulldozing his way through people, at catching the ball in the backfield and at beating people on the outside. He's simply a star (indeed having already signed up to Jay Z's sports agency). The Browns might decide they need to get their QB first and hope that Barkley is still there at 4.
Who drafts Barkley?
Assume that he goes in the first 5 picks (safe assumption, barring him doing something really stupid in the next week). That list is currently Cleveland, New York Giants, New York Jets, Cleveland again, Denver. So Cleveland get two goes as it stands. The Jets are the least likely to draft him: they desperately need a QB. The Giants have slow, old and broken running backs. With an ageing Eli Manning under center and no offensive line to speak of, they really need to bring in some help. Denver just released last year's main running back for them, CJ Anderson, so could be tempted to look beyond the obvious need at QB if he fell that far. It is also possible that a team trades up to take him, though that is more likely if he gets to 5 than before then.
Number of QBs in the first round
The quarterback class of 2018 isn't actually that good, but the bookies think five will go in the first round. Four is possible. Six is possible. In a year where there are some really talented defensive players (in particular), along with some stars on offense, it's disproportionate for a sixth of the picks to be QBs. But that's the importance of the position and the importance of that option on the contract for the extra cheap year.
Darnold and Allen will go early. The next two seem near certs to go early, too.
Oklahoma's Baker Mayfield is the stats man's preferred guy. His numbers stack up against anyone's, and he sure knows it. He has been a controversial figure on the field at times (including a Graeme Souness-like flag planting at the Ohio State stadium), but he has a good football brain and would be a good fit for a number of offenses. Last year's Heisman winner (player of the year), top 5 seems likely, despite being a little shorter than the prototypical QB.
Josh Rosen of UCLA has been one of the most divisive figures in the draft class. He has everything you would want in his physique and arm strength. He has all the throws and has an excellent brain. The problem is he's very opinionated and, when that opinion involves you wearing a hat professing a strong dislike of Donald Trump and posting a photo on Instagram, there's a risk you'll annoy a few people. Like the American Ambassador to the UK, who owns the New York Jets, for example. Rosen's political beliefs shouldn't be relevant, but this is a league owned predominantly by rich and powerful white men, who won't want their most prominent player alienating himself from half the fans. Some might welcome the rest of the package Rosen brings and be prepared to accept what comes, for the good of the team. Still generally thought to be a top 5 prospect, there's a genuine possibility he's the one that slides down the list on Thursday, though probably not out of the first round.
Next is Louisville's Lamar Jackson, whose biggest attribute is his pace. He didn't perform a sprint at the combine, but the game tape shows he's close (at least) to the fastest quarterback there has been in the NFL. The obvious comparison is Michael Vick, who was a dual-threat (passing and running) QB for the Atlanta Falcons. Cam Newton and Russell Wilson are in that mould nowadays, but neither has Jackson's speed. He's a little rough and ready in places, but he could light up a franchise with highlight reel plays. There's even been talk of the Patriots taking him and looking to take the franchise in a different direction, when Brady retires. He is probably going to go in the twenties, but his unusual style and less polished skillset might lead to teams not wanting to spend their big 1st round capital on him.
Another of the fringe 1st/2nd round players is Mason Rudolph of Oklahome State. At 6 foot 5, he's the sort of height teams look for nowadays, as the defensive linemen are getting taller and you want to be throwing down to receivers, in order to maintain accuracy and limit interceptions. He is probably going to be drafted as a back-up, but that's true of most of these guys. He has a skillset which suggests he will be better for coaching in some areas, but a team at the bottom end of the first round might take a chance on him, or a team at the top of the second might trade up to ensure they get that all-important fifth year option, if he turns out to be good. Having improved year on year, Rudolph is an intriguing prospect.
That is probably all the list of 1st round contenders. Luke Falk, Kyle Lauletta (who could be a sleeper for the right team if you play dynasty fantasy) and Chase Litton will be mid-round selections on Friday or Saturday, and a few others might go later on. On paper, if players were drafted solely on ability, it's not out of the question that none of the QBs would go in the first round, but the NFL doesn't work like that.   
How many Tight Ends?
A Tight End is a player who stands on the edge of the offensive line and fulfils two roles: blocking because he's big enough to do so and catching passes because he has good hands. The best (like New England's Rob Gronkowski) can do both very well; most are strong in one discipline. This year, there are four guys who could go in the first round or the third round, so mixed is opinion on them.
Mike Gesicki (6'5" speedy athlete), Dallas Goedert (sturdy catching TE), Hayden Hurst (trustworthy catcher and well-rounded off the field as a former pro baseball player) and Mark Andrews (good relationship with Baker Mayfield) are the big four. It comes down to what the teams want, as the Giants and Browns have recently gone for the speedy types and others have elected for those who can help with protecting the quarterback and causing a nuisance to opposing defenders. The experts are struggling to agree on who's best. Consensus seems to be 0, 1 or 2 to go in the first round, but it could be the case that the Eagles (who lost Trey Burton in the offseason) really want Dallas Goedert and he's still available at 32, when two other have already gone. This is definitely the position where team need is individual and specific.
What about the defensive backs?
This is a really interesting market. The modern NFL defensive back can either do one thing exceptionally well or they can do two or three things very well. That is partly because the offensive players they are up against have become more varied and multifaceted. If you're marking Gronk, who's built like a back row rugby forward, you need to be big and strong, but also quick footed and clever. It's no longer enough to be just one of those. Three guys are hybrid superstars in the making. Derwin James has everything you could want in a safety: elite speed, long arms (good for tackling) and a natural leader on the field.
For a long time, Minkah Fitzpatrick was the most likely favourite in this field, but he's slipped down the mock drafts a little in recent weeks. On the field, he's explosive with a capital explosive. Off it, a well-spoken, intelligent leader, who's learned from one of the best defenses in college football: Alabama.
The current favourite in the market is Ohio State's Denzel Ward. More of a cornerback than a safety (unlike the other two, who are the reverse), Ward is likely to be the guy who marks slot receivers (short yardage guys, who help keep the chains moving), as he probably won't end up being a top level cornerback on the outside. He could easily be a safety, though, and that dual role opportunity makes him a hot prospect.
There's very little between the three of them. It might well come down to who needs what.  
More offense or defense or the same?
On ability, this would be a no-brainer, as the defense in 2018 is significantly better than the offense. However, the QB purge will even that up and make it close. I've done two first round mock drafts over the last few weeks and both ended with 16 of each in it. It probably comes down to whether you think the end of the 1st round will see a couple of QBs or running backs come in, or whether you think there will be a "best available" mentality and players like defensive end Sam Hubbard, safety Jessie Bates or linebacker Rashaan Evans make the cut. If you're going low on QB numbers, think defense.
How many players drafted on Thursday are in the hall on the night?
22 players have accepted invitations to be there on draft night: Jaire Alexander, Josh Allen, Saquon Barkley, Taven Bryan, Bradley Chubb, Sam Darnold, Marcus Davenport, Tremaine Edmunds, Rashaan Evans, Minkah Fitzpatrick, Shaqueem Griffin, Derrius Guice, Josh Jackson, Lamar Jackson, Derwin James, Kolton Miller, Josh Rosen, Roquan Smith, Leighton Vander Esch, Vita Vea, Denzel Ward and Connor Williams.
The majority of these will be drafted in the first round, but not all. Shaqueem Griffin is highly unlikely to go then (you can get 12/1 if you disagree), but his story is an incredible one, if you fancy a google, and he will find a roster for sure, on Friday or Saturday. There are a few in the list who are fringe 1st/2nd rounders: Alexander, Evans, Guice and Miller could easily end up waiting until the next day. As for the rest, it only takes a dodgy facebook post from 2011 or a drunken moment of madness to fall down the rankings and cost yourself millions. It seems to happen every year.
Some 1st rounders elect instead to stay at home or with friends, partly to enable them to celebrate with their loved ones and partly to stave off the embarrassment of the cameras in your face, as you slip down the list. Baker Mayfield is the highest profile chap to do that this year.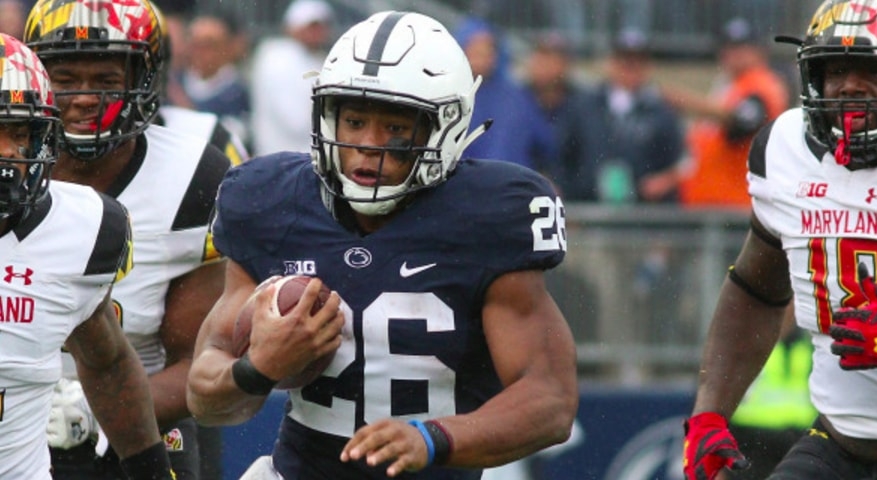 Anyone else to watch out for?
Oh yes. If Barkley is the best player in the draft (and that isn't certain), second and third are Bradley Chubb and Quenton Nelson.
Chubb is a brilliant pass rusher. He has one of the best first steps of any defensive end (a massively important trait for the position, as you have to get around a big offensive tackle to get to the quarterback) and will be a brutal threat to QBs immediately. If he goes to a team that already has a good pass rusher (including Cleveland, who have Myles Garrett from last year's draft), that defense instantly becomes a scary one.
Nelson is an offensive guard – the big lads whose job it is to defend the quarterback from right in front. He has the complete package in physique, skillset and brain. Some believe he is the best player in the draft this year and I could well buy that. Notre Dame has Joe Montana as its most famous NFL star and no one's saying Nelson will be topping that, but he's got a long and successful career ahead of him, barring injury. Teams who value their current quarterback will be keen to see Nelson fall to them.
What else is there to say?
Sky Sports will be covering the full weekend, starting at 12.30am Friday. Sit back, get your hotdogs, pretzels and 'chips' on standby and enjoy the 2018 NFL Draft. But not before you've had a go at the draft pools on ipools. What are you waiting for? You're now on the clock!