In the WGC-Cadillac Championship article we posted on Monday, we focussed on Driving Distance and Strokes Gained: Tee-To-Green as the key stats that we think will prove decisive in this tournament. I won't repeat the reasoning here, but you're welcome to go over all our thoughts about this course, which underwent major changes in 2013, in our article "WGC-Cadillac Championship – betting tips".
Looking specifically at the i-pools game, we hope to help give you a competitive edge by applying our stats based approach to pools betting.
Remember, points are awarded according to final finishing position as follows:  100 points for 1st place; 50 points for 2nd to 5th; 25 points for 6th to 10th; 10 points for 11th to 25th; 3 points for 26th to 50th and 1 point for only making the cut (but outside top 50).
In addition, each player has been given a 'multiplier'. Any points scored by a player will be multiplied by the number in the brackets after their name.
There are four categories in this pool: US Favourites, US Contenders, Europeans, and Rest of the World. Here's our thoughts and picks for each category: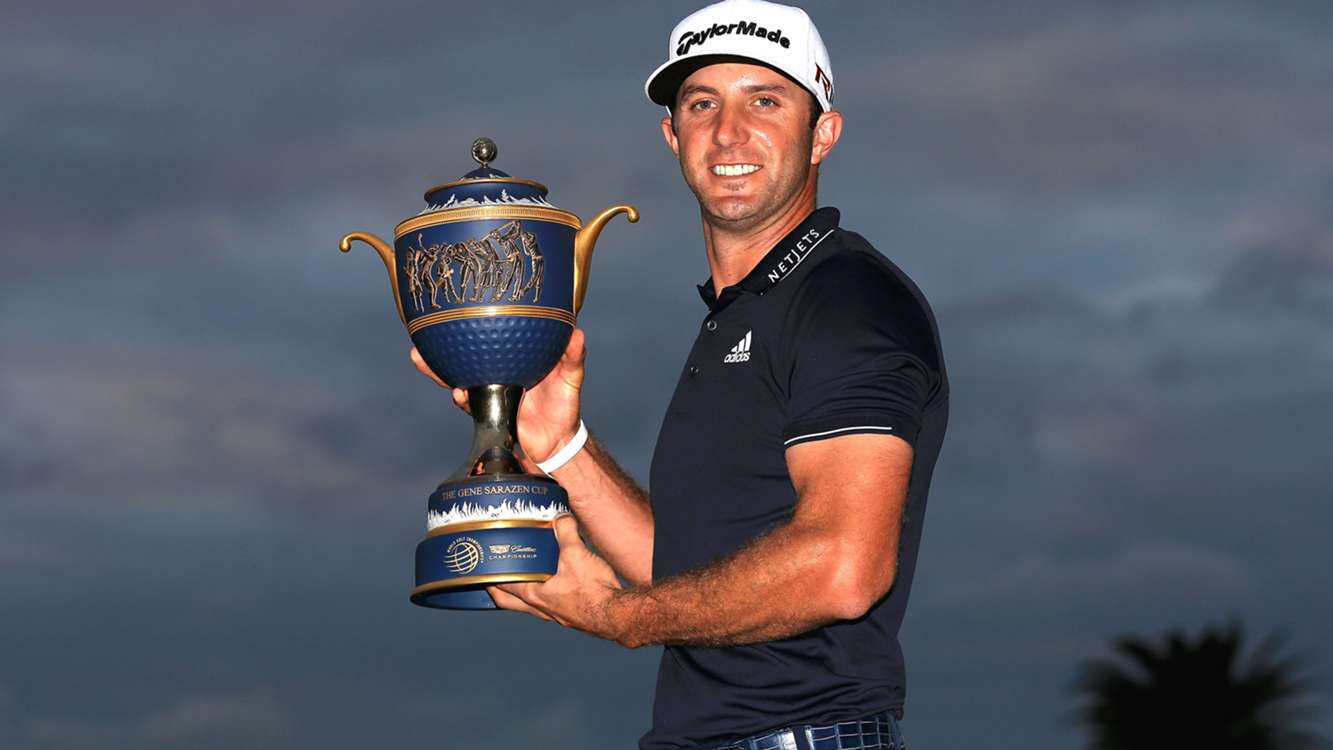 US Favourite
There's a lot of good competition in this pool. The course is a bombers' paradise so Dustin Johnson and Bubba Watson immediately stand out. Johnson of course, is defending his title from last year and along with Watson they rank two out of the top three in terms of Driving Distance last year. That said we are swerving both these big hitters because we can find great options with better multipliers.
JB Holmes has a 2x multiplier in this pool and we think this cannot be ignored considering he began the final round last year with a five shot lead. He's likely to be in the mix again and we think his statistical breakdown - 6th SG:TtG, T3 in driving distance, T69 par 5 scoring average - will suit this course very well.
Justin Thomas has gone off the boil a little since his win in the CIMB Classic in November and he's a first timer in this event. We're not convinced a lack of experience is a huge issue in this tournament due to the renovations a couple of years back so we're drawing a line through that negative. Statistically he has what it takes ranking T8 in par 5 scoring average, 26th in driving distance and 21sr in SG:TtG, and with a 2x multiplier we have to include him in our selections.
Honourable mention goes to Patrick Reed in this pool. He won the tournament in 2014 and was one of only three players who broke par (-4). We're going to stick to a strategy of only two picks maximum per pool, but with a 2x multiplier, we wouldn't put you off Reed as a solid option.

Our picks: JB Holmes and Justin Thomas
US Contenders
After being spoilt for choice in the first pool we are struggling to find a standout pick in the second. As the stats haven't helped find a selection, we're going to keep it simple and go for Bill Haas. he's finished in the Top 10 the last two years so while the stats don't really stand out for any of this crew, course form suggests it fits Haas' eye.

Our pick: Bill Haas
Europeans
Another relatively tough pool to pick from when thinking about our key stats for this course. We were disappointed by McIlroy last week but so was he, taking to Twitter to say that "13 dropped shots in 2 days is not good enough. Too many sloppy mistakes and mental errors. Lots of practice needed between now and Doral"
His Tee-To-Green game is still in good nick, it's just that his putting has let him down. We encouraged that he's got the hunger in his belly and that's why we rank him our number one pick in this field. Only a 1x multiplier, but if he's in good form, which is only a matter of time, one is all you need!

Our pick: Rory McIlroy
Rest of the World
Our headline pick in our betting article this week was Adam Scott and we are going to remain bullish on him in this tournament. He's in incredible form, starting the year T2-1 and in terms of the stats, it's hard to think of a more solid pick. He's number one on Tour in par 5 scoring and 2nd on Tour in SG:TtG and 8th for driving distance. Easy pick really despite not having a multiplier.
Our second pick in this pool will be Marc Leishman. Leishman is a player in form, coming off a top five finish in the Northern Trust Open and although he hasn't played on this course since the renovations. We think his stats - 10th in SG:TtG, 21st in driving distance and T39 in par 5 scoring - will really suit this course.

Our picks: Adam Scott and Marc Leishman
Thanks for reading, we hope you found this article useful and we look forward to playing with you on i-pools. We'll be entering the pool as FairwayWedge, good luck if you are playing. If you have any comments or feedback we'd love to hear it, or of course if you have any wins of the back of our write ups, it would be great to hear from you.