The seventh kingdom has fallen, only six remain.
The kingdom in question is that of Aston Villa, who succumbed to the inevitable relegation that most people could see in September. One of my pre-season naps was Villa to go down, another was for Leicester to accompany them, ho-hum.
As Villa are jettisoned from the Premier League elite, it's worth remembering that they were amongst a group of seven clubs to have participated in every season of the Premier League. The others? Man Utd, Arsenal, Chelsea, Liverpool, Everton, Tottenham.
By keeping such esteemed company you will no doubt see Villa amongst the favourites for promotion from the Championship when August rolls around. You would be an absolute fool to consider betting on them.
This Villa side is likely to be the third poorest team in Premier League history, highlighting a decay that virtually ignores the previous 24 seasons of Premier League riches. Aston Villa are very likely to find themselves amongst the bottom feeders in the Championship, and it will be my preseason prediction that they will actually be relegated for the second successive season.
Of course, Villa are yet to appoint a new manager and their squad is pencilled in for extensive surgery over the summer. Nevertheless, there is a structural decline at Villa that will require more than one season to eradicate. The decline is almost single handedly down to Randy Lerner and his dubious strategy and can be traced as far back as 2010.
In August 2010, when Martin O'Neill resigned just five days before the start of the season in a tantrum at not having enough money to spend, Lerner failed to realise just what he was letting go. The warning signs were there, Randy Lerner was no longer willing to bankroll Villa to success.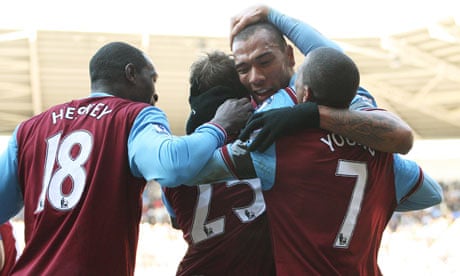 Villa had finished the previous season in 6th, had reached the final of the League Cup and the semi-final of the FA Cup. They boasted an attacking trio of James Milner, Ashley Young and Stewart Downing to supply Emile Heskey and John Carew with the chances. O'Neill felt that with a investment in a striker Villa could bridge the gap to the top four. That investment never materialised and Martin O'Neill and his three successive top six finishes were gone.
Eight days after O'Neill left, James Milner had left Villa Park too. Milner had be central to Villa's progress in the previous three season and had become an effective goalscoring midfielder. Man City offered £26m, but really it was £18m as they valued Stephen Ireland at £8m when in truth he was probably worth the equivalent of a respray of a Bentley Continental in Baby Blue (RRP - £999).
O'Neill's replacement was Gerard Houllier, and whilst Villa finished the season in 9th the regression had begun. This would be Villa's final top ten finish in their as yet unbroken stint in the Premier League. It was also Houllier's only season in charge as he resigned towards the end of the campaign with a heart issue (a genuine one, not the kind the rest of the team suffered from).
Lerner had spent money during Houllier's reign. Admittedly the £24m forked out on Darren Bent was a reinvestment of the James Milner proceeds, but the question has to be asked, what would Martin O'Neill have done with a £24m striker?
Lerner's fatal mistake came in announcing Houllier's successor. When Alex McLeish became the Aston Villa manager, Lerner royally pissed off the fans by appointing a former 'bluenose', but also appointed a man whose methods were antiquated and would leave a squad that was heavily reliant on defensive solidity to churn out results.
With McLeish in at the helm, Villa received £40m for Downing and Young and saw fit to replace them with Wigan's Charles N'Zogbia for £9.5m. McLeish led Villa to their lowest league position since 2006 and was removed from his post at the end of the 2011-12 season. Villa scored 37 goals in 38 games in the 2011-12 season, down 11 goals from the previous season. They also recorded the second fewest wins despite somehow managing to finish 16th. In truth, Villa should have been relegated in 2012.
Replacing Alex McLeish shouldn't have been too hard, but replacing those goals was always likely to be a difficult task. In one season Villa had been mutated into a non-goalscoring side that relied upon a dour defence to win - or not lose - games.
Bringing in Paul Lambert only exacerbated the issues that McLeish had created, except dour was replaced with reckless. Somehow Lambert managed to finish one place higher than McLeish did the previous season and scored ten more goals. This was all down to Lambert's fortune in unearthing Christian Benteke for £7m from Belgian club Gent. Without Benteke, Villa would have gone down in 2013.
Lambert's fortune in the transfer market didn't spread much further than Benteke. Amongst his less celebrated buys are Aleksandar Tonev and Yacouba Sylla. They are less celebrated because they were utterly shite and completely at odds with a team with Premier League ambitions. Villa were fortunate that 34 points was enough for survival in 2014, as their meagre total of 38 points would have been enough to see them relegated in an average season.
Lambert was sacked during the 2014-15 season and Tim Sherwood somehow conspired to keep them up again. Despite only scoring 31 goals Villa somehow managed to plunder 38 points, but by the end of the 2015 season Villa were in effect, the worst remaining side in the Premier League. If the three promoted sides did well then 2015-16 would be the year of the Villa relegation.
Sherwood gets a lot of stick for his Little Englander mentality, and rightly so. However, only goldfish with severe learning difficulties would apportion more than a smidgen of blame to Sherwood. If your captain and your best player were sold from underneath you and replaced by a cohort of useless French pastry chefs.
Villa have been in decline for five years, surviving in the Premier League due to the generosity of others. In that time, the best players have left leaving the players on bloated salaries with minimal appetite to turn out every week. Would Kieran Richardson get in the Boro side? Could Jordan Ayew expect to start for Fulham? Would Hull trust Micah Richards at centre half? The answer is no.
Without major surgery, this Villa side so used to losing will find itself in a relegation scrap just like Wigan, Portsmouth and Fulham did.