As Nick Kyrgios stormed off the court after losing a first set tie break in China this week, has the Aussie tennis star nailed his position as sport's greatest waste of natural talent?
His Shanghai strop was by no means a first offence. It wasn't even the first time Kyrgios has lost it at this tournament after a blow up last year, when he copped a $16,500 fine and three-week ban for arguing with the umpire, a spectator and for a "lack of best efforts".
This time around he had already been warned for smashing two balls out of the court in frustration at a line call and given a point penalty, when using an audible expletive as he threatened to walk off the court if he lost the first set tie break to American Steve Johnson.
When the American took the first set 7-5, Kyrgios went through with his threat, packing up his stuff and walking off, a decision that cost him a $10,000 fine as well as forfeiting his $21,085 prize money.
Kyrgios is undoubtedly talented. He's the only active player to defeat Federer, Nadal and Djokovic in their first meetings, but has admitted in the past that he doesn't even enjoy being a professional tennis player.
As if to underline the battle raging within, Kyrgios made the final of last week's China Open, but just when it seemed he was in the form and mental state to give Rafa Nadal a real test, he got frustrated at an early line call and meekly succumbed 6-2 6-1, though not before he received a point penalty for continuing to complain.
Still only 22, it's not too late for Kyrgios to turn it around, but it doesn't look likely any time soon. Where does he sit on our list of sports greatest wastes of talent?
Len Bias
While some find some of Kyrgios's antics funny - he once told Stan Wawrinka across the court that one of his mates had banged his girlfriend - there's nothing funny about the story of Len Bias.
Heralded as the next big thing in basketball, Bias was a standout All American forward at the University of Maryland. He was selected with the second overall pick in the 1986 draft by the most storied franchise in basketball, the Boston Celtics. The stage was set, Bias was on his way to the big time and would be a household name, the next big superstar. Two days after the draft, aged just 22, he was dead from a drugs overdose. We'll never know how good Bias would have been, he never did get to play NBA basketball, but he certainly wasted the talent he was born with.
Adrian Mutu
Thankfully Mutu's dalliance with illegal substances didn't have the sad ending of Bias, but his habits certainly curtailed a career that could have gone to the very top. The Romanian striker arrived at Chelsea in a £21m deal and looked to have the talent to become a superstar.
But he gave in to the temptations and was sacked after testing positive for cocaine. After a lengthy court case in which Chelsea tried to recoup their outlay from the player himself for breach of contract, Mutu headed back to rebuild his career in Italy, first with Juventus and then with Fiorentina, where he failed another drugs test and served another lengthy ban before another sacking.
As if to draw a line under a troubled career, it was reported that a last payday in the twilight of his career in India was abandoned after he turned up at the Indian embassy to try and get a work permit drunk!
Michelle Wie
Bursting onto the women's golfing scene as a 15-year-old, Michelle Wie was the youngest player ever to qualify for an LPGA event. The hype grew around her and she even took on the men in PGA events as the media heralded the arrival of the girl who could beat the boys at their own game. However, she continually failed to qualify for men's event, and she hasn't exactly shone in the women's game, winning just four events in her 12 years as a professional. Whether the early pressure ruined her career, or whether Wie never actually had the talent we were led to believe, is open to question.
Larry Sanders
Defensive specialist Sanders looked to be carving a nice niche in the NBA when he signed a $44million four-year contract extension with the Milwaukee Bucks in 2013. A beast on the defensive end, Sanders was one of the top shot blockers in basketball, but the wheels came off.
In December 2013, just months after signing his big extension, Sanders was involved in a nightclub altercation where it's alleged the 6-foot-11 center hit someone with a champagne bottle. No charges were brought, but Sanders missed 25 games with a torn ligament in the thumb.
In March 2014 it was announced he would miss the rest of the season due to a fractured right orbital bone and a month later given a five-match ban by the NBA for testing positive for marijuana. He was banned for another 10 games the following season for again violating the NBA drug policy and in February 2015 it was announced the Bucks were buying out his contract.
He walked away from the NBA and into rehab aged just 25. He made a brief comeback earlier this year with the Cleveland Cavaliers, but after appearing briefly in five games, and amid rumours of struggling with responsibilities on and off the court and with punctuality while assigned with the Cavs' D League squad, he was waived. Still only 28, he's currently without a team.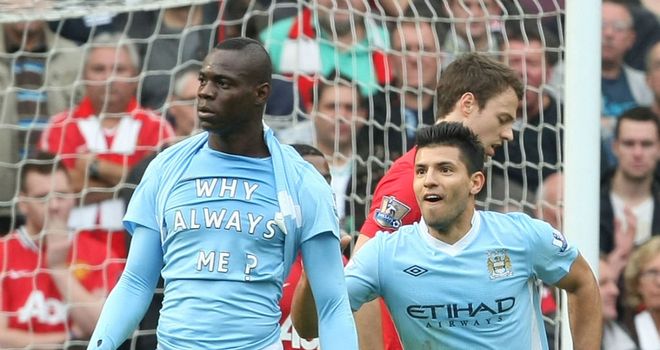 Mario Balotelli
After bursting onto the scene as a teenager for Inter Milan, Balotelli had the world at his feet. After a tough upbringing, his football talent shone through and under Roberto Mancini's tutelage he quickly became the great hope if Italian football, making his international debut in 2010.
Mancini's departure for Manchester City changed things for Balotelli, with the incoming disciplinarian Jose Mourinho having far less patience. Mancini gave Mario another chance, bringing him over to the Premier League with City, and while he showed flashes of brilliance, he made the headlines on the front page as much as the back page during his time in England.
A move to Liverpool didn't work out amid further disciplinary problems and he was farmed out on loan to Nice. Balotelli's career in France started with a bang, scoring two goals in each of his first two games. He's still struggling with discipline, seeing three red cards in his first season in Ligue 1, but has scored 20 goals in 28 games. Maybe there's still a chance for Mario to be Super? Why always him?
Michael Vick
Chosen first in the 2001 NFL draft, Michael Vick was one of the hottest properties in the NFL, a superstar quarterback with the Atlanta Falcons with a never before seen rushing style showcasing his athleticism.
But in 2007 he was implicated for his part in a dogfighting ring that gained him notoriety with the public, and 21 months in prison. Just before his release, the Falcons cut him, and while he enjoyed his best statistical season of his career with the Philadelphia Eagles and was named to a fourth Pro Bowl in 2010, he left Philly.
In his final two seasons he languished primarily as a back up with the Jets and Steelers, and after spending all of 2016 in free agency, he officially retired before the start of the current NFL season.
John Daly
Fan favourite Daly was everyone's second favourite golfer (after Tiger Woods) and the crowd's loved it when Wild Thing won the Open in 1995. With his maverick big hitting style Daly was a star on the golf course, but away from it he's battled alcoholism and a gambling addiction that is said to have cost him $50million. He never again attained the heights of that Major win and his last victory in any tournament came in 2004.
Kevin Pietersen
It might seem harsh to include a man who played 104 Test matches for England, and who scored more than 8000 runs at an average of more than 47, but at 37 he is already a distant memory for England cricket fans, and if he'd kept his house in order he arguably would still be in the national side in all forms of cricket.
Rewind to 2008 and the South African born star was captain of both England's Test and one day sides, but a very public falling out with coach Peter Moores saw his services dispensed with after just three Tests.
His relationship with the ECB and his teammates never recovered, and while he remained in the side until the 2013 Ashes series, the fall out from the 2012 series against South Africa, where he was accused of sending text messages to the opposition undermining his own side, was the beginning of a premature end.
Ronnie O'Sullivan
Another controversial inclusion, but Ronnie himself has admitted on Twitter recently that if he had his head straight he would have won seven to 10 world titles by now. During the same Q&A he revealed he's only liked two of his five World Championship final wins (2012 and 2013) and that he is missing the European Masters to stay at home and do pilates instead as he 'couldn't cope with playing a numpty at Barnsley to qualify'.
O'Sullivan has always been an enigma - who can forget his 2008 press conference in China when O'Sullivan answered two questions about his  5-4 defeat against Marco Fu before asking an official: "Fuck me, how many more questions are they going to ask?"  and while the next question is being asked, O'Sullivan refers to the size and shape of his penis. Ronnie is so good he's still regarded by many as the greatest ever, but he's the first to admit he could have been even better.
Alexandre Daigle
The Ottawa Senators later admitted they deliberately lost games in order to secure the services of Daigle when it became clear the Canadian was set to enter the NHL.
The Senators achieved their desired last place finish, securing the first pick and selecting the much-hyped Daigle ahead of future hall of famers Chris Pronger and Paul Kariya. Despite showing early promise, Daigle will go down as one of the biggest busts in NHL history amid rumours of too much partying and a lack of effort. Out of the game by the age of 25, Daigle admitted he never actually wanted to play hockey….sound familiar?
Krygios may already deserve a place in our top 10 sporting wasters, but if he hasn't, he can't be far off and his behaviour and application shows little sign of improvement. He's so far failed to make get anywhere near his potential in men's tennis, though he's certainly fulfilled his potential as one of sport's current greatest waster.
Agree with our list or think we've missed an obvious choice? Tweet us @i-poolsHQ