It might have only been two weeks since the last round of Premier League games, but it certainly feels longer after having to endure a couple of painful England matches in the meantime.
With the Premier League returning yet again, so too do our array of Last Longest, Fantasy, Coupons and Match Pools, with a minimum of just under £2,000 to be won in guarantees alone.
Premier League Beat the Streak for £1million: Already out of our previous seven Beat the Streak pools? That's no problem at all, with a brand new game to play each week until January, to give you another shot at the £1million Jackpot Bonus.
Just pick a team to win each week and if they do, you move on to the next game week. Pick 20 consecutive winners to become a millionaire, but careful though, you can only choose the same team once! There's also a £500 guarantee in the £5 pool, so there's plenty to play for even if you don't quite make it to £1million.
Just to prove how difficult winning the Jackpot will be, only one player, Gary07, remains from our Matchday one £5 game. Gary has already picked up the prize fund of just under £900 and is still on course for the £1million, already picking seven consecutive winners. The only bad news is he's chosen five of the big boys, with only Chelsea available from the title contenders, so it's only going to get tougher from here on in.
Picking an obvious winner in Matchday eight is looking like it will be a tricky task. With Liverpool taking on Man Utd, you can rule out picking either side in what will surely be a tight and cagey affair. Arsenal travel to a quality looking Watford outfit, while Man City host Stoke, but have only beaten the Potters once at home in the previous three meetings.
If you don't mind using the big boys early on, that leaves Spurs at 'home' to Bournemouth, which isn't guaranteed given their Wembley record. A more likely pick is Chelsea away to pointless Crystal Palace but it's always a risk going with an away team, even if it's the champions and Palace have got to get off the mark at some point?!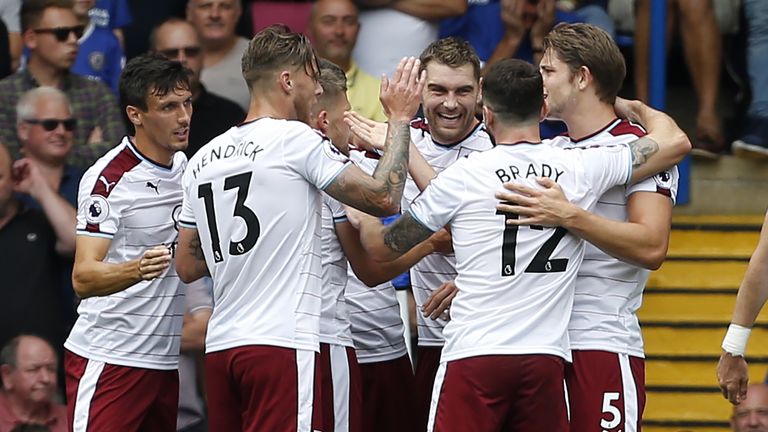 Looking a bit further afield, Burnley at home to West Ham could well be the way to go. Sean Dyche's men have had a stunning start, currently sitting in sixth after taking points on visits to Chelsea, Liverpool and Spurs. Although they've won just once at home so far this season, last time round they had the ninth best home record in the league and are still a hard nut to crack at Turf Moor.
West Ham saw off Swansea just before the international break but have had a slow start, which includes three defeats and a draw on the road. With Burnley the in form team and very good at home, will that be enough to tempt you into being your pick this week?
Premier League £2 Coupon - £500 guaranteed: The Premier League Coupons is always great value for money, with a tasty guarantee up for grabs. There's usually a bit of overlay in the £2 game, meaning you have a better chance of picking up a slice of the guarantee and presents even better value for your entry.
Remember, it's a point for each correct prediction, multiplied by the figure in brackets and if you scoop the most points, you'll bag the first prize.
Looking at the fixtures, it's the highly anticipated Liverpool v Man Utd clash first up on Saturday lunchtime. All three outcomes are x3, which proves just how close this one is to call, but given Sadio Mane is out injured and Liverpool haven't look convincing as of late, while Man Utd have looked unstoppable at times, a Man Utd win seems the most likely outcome.
As stated earlier, we're backing Burnley in the Beat the Streak, and they are x2 to secure the three points over West Ham. Palace are x7 to pick up their first win of the season but would surely settle for even a point at x4, even though a Chelsea win at x1 is probably too good to refuse.
Like last season, is a draw at x6 tempting between Man City and Stoke at the Eithad? Despite their Wembley woes, Spurs should beat Bournemouth and are x1 to do so, which is the same price for an Arsenal victory at Watford. Struggling Everton are x2 to come away from Brighton with three points but a draw at x3 could be the way you go for this one.
Fantasy Five-A-Side: With at least £100 to play for, just pick your team of five players to try and score you the most points. Players from the three longest priced teams - Bournemouth, Palace & Stoke - are x2 multipliers meaning they will score you double points.
Given the fact goalkeepers score a point for each save made and defenders two points for each tackle, the busier they are, the more likely to score you big, which is why the likes of Stoke stopper Jack Butland, and Bournemouth defender Nathan Ake shouldn't be ruled out.
But when it comes to Palace, it's probably best to avoid any of their backline, and instead go for Chelsea's Eden Hazard or Pedro as one of your Midfielders, and either one of Everton's Wayne Rooney or Gylfi Sigurdsson as the other, who are away to Brighton. When it comes to your Forward, can you possibly look past either one of the seemingly unstoppable Harry Kane or Romelu Lukaku?
Liverpool v Man Utd Match Pool: With another £100 guaranteed, the standout match of the weekend is the battle of the bitter enemies.
Last month's 5-0 humiliation to Man City, along with dropped points to Burnley and Newcastle has provided Liverpool with an indifferent start, which might not get any better with the news Mane is out for around six weeks.
United on the other hand, have been breathtaking, with 4-0 wins against Palace, Everton, Swansea and West Ham already to their name, and there's only been seven games!
Paul Pogba and Marouane Fellaini miss the trip to Liverpool through injury but you'd fancy United to continue their fine run with another win, which is x3 in our Match Pool. It should be a tight affair, with two or fewer goals scored at x1, while you can't look past Lukaku netting his eighth league goal of the season, also at x1 in our pick a player to score question.
With plenty at stake this weekend, make sure you get your entries in by 12:30pm tomorrow, for your chance to get your hands on some hard cash!