Weekend wins for Southampton and West Brom, plus a third successive draw for Stoke, have breathed life into the Premier League relegation battle, but can any of the bottom three get out of trouble?
Realistically there're six sides embroiled in the battle. West Ham, Huddersfield and Swansea did their bit at the weekend by all losing to give hope to the bottom three where previously there didn't look to be much.
With either two or three games left, which are the games that are going to decide who will be playing in the Championship next season and who gets another season with the big boys?
West Brom
The Baggies have just two games remaining and face an almost impossible task. How they must wish they'd dispensed with the services of Alan Pardew, who oversaw just one win and collected eight points in 18 games, for Darren Moore, the club legend who has also picked up eight points this season, despite only being in charge for four games! Saturday's win at Newcastle looks to have delayed the inevitable, still five points adrift of Swansea - and safety - with two games to play versus the Swans' three.
Remaining Games: May 5 - Tottenham (H), May 13 - Crystal Palace (A)
Prediction: Even if they win both games, the Baggies are bouncing out of the Premier League. Darren Moore has worked wonders and deserves a crack at bringing West Brom back, but it's hard to see them winning another point this season.
28 points - 20th - RELEGATED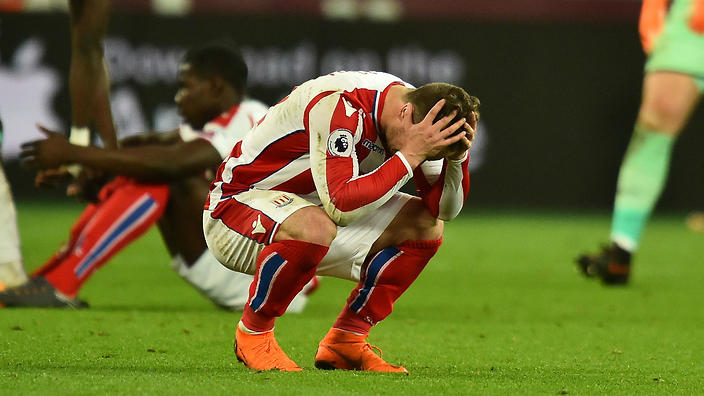 Stoke
Now within three points of safety, there's still a chance for Stoke to get out of it, and they're definitely playing with a bit more spirit and determination, though three successive draws probably has them thinking what might have been had they nicked a late goal in any of those games.
They lack quality, especially up front, and it's been a struggle all season to see where the goals are coming from, but they have a run-in most others would love, albeit with just two games left. Palace are bang in form but now safe and could take their foot off the accelerator, while Swansea are the team they have in the crosshairs as the target to catch, so what better than facing them on the last day of the season. Stoke will just hope to have their destiny in their own hands going to the Liberty Stadium.
Remaining Games: May 5 - Crystal Palace (H), May 13 - Swansea (A)
Prediction: Stoke's fate may well be sealed by the time they travel to Swansea but they need to do everything in their power to make sure they have something to play for. If Palace reproduce the form shown against Leicester, the Swansea game may well be a dead rubber.
31 points - 19th - RELEGATED
Southampton
After threatening it in their previous couple of games, Southampton finally got their first win under Mark Hughes at the weekend, a tight 2-1 defeat of South Coast rivals Bournemouth. Unlike some of the sides around them, the Saints have had goals in them, scoring two against both Arsenal and Chelsea and getting in positions to win those games before ultimately succumbing to defeat, before getting another two against the Cherries and hanging on for the three points. Now just one point behind Swansea and with a trip to the Liberty Stadium to come next week, it's all to play for.
Remaining Games: May 5 – Everton (A), May 8 – Swansea (A), May 13 – Manchester City (H)
Prediction: They won't want to rely on having to get anything at champions City on the last day of the season, so it's all on that trip to Swansea next Wednesday. The Saints have looked in better form...maybe, just maybe they can do it.
36 points - 16th - SAFE
Swansea
A run-in at already safe Bournemouth and at home against their two closest relegation rivals is about as good as it gets, but Swansea have lost all momentum in their battle to escape relegation. Life seemed good when they beat West Brom 4-1 at the start of March, but in the two months since then they're picked up just two points in six games, scoring only two goals, while also exiting the FA Cup 3-0 against Spurs. When you can't see where the next goal is coming from, it's hard to see Swansea picking up many points.
Remaining Games: May 5 – Bournemouth (A), May 8 – Southampton (H), May 13 – Stoke (H)
Prediction: Swansea probably only need one win to be safe, but they're not scoring goals or creating chances. With Southampton and Stoke fighting for their lives, a win at Bournemouth might see them all but safe before they take on their rivals, but it's hard to see where the goals will come from.
36 points - 17th - SAFE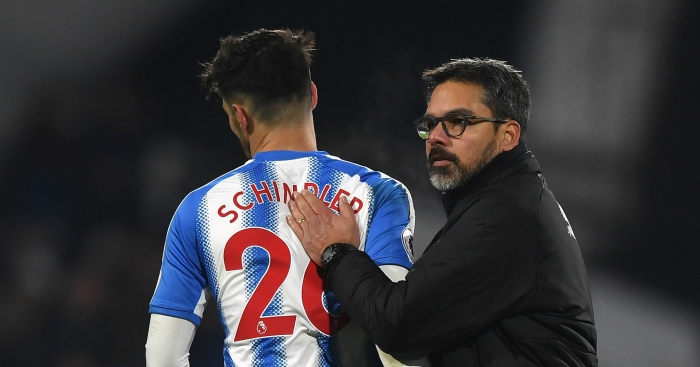 Huddersfield
One win from their last seven games has seen Huddersfield sucked back into the relegation fight, and with Manchester City, Chelsea and Arsenal their remaining opponents, it could be a matter of hoping the 35 points they've already got is enough. A home defeat against an Everton side with nothing to play for and with a manager that looks a dead man walking was a real body blow. Swansea's games with Southampton and Stoke are going to be vital to the Terriers' future.
Remaining Games: May 5 – Manchester City (A), May 8 – Chelsea (A), May 13 - Arsenal (H)
Prediction: What a nightmare run-in for Huddersfield. They've surprised us plenty of times this season, winning their first two games to go top of the league, but can they do it again? It doesn't look likely, and they'll have to rely on others to do them a favour or two.
35 points - 18th - RELEGATED
West Ham
Four games without a win including back-to-back 4-1 defeats against Arsenal and Manchester City have seen the Hammers dragged back into the relegation battle. They finish with two home games, which would normally be seen as advantageous, but at the London Stadium you could argue against that. A trip to out of form Leicester, who have been playing in their flip-flops for a few weeks, precedes those two home games with Manchester United and Everton, and a win there will see them safe. Marko Arnautovic is the key man for West Ham, and with only one win, maybe even just one point, required for safety, the Austrian should be able to get them over the line.
Remaining Games: May 5 – Leicester City (A), May 10 – Manchester United (H), May 13 - Everton (H)
Prediction: West Ham are always just one match away from a crisis, and you wouldn't fancy backing them to win any of their last three games, but they'll probably just about have enough to scrape over the line. Their goal difference has taken a hammering of late, something which they'll hope doesn't come into play.
37 points - 15th - SAFE
That's how we see this fascinating relegation battle going but what about you? Comment below or tweet us @ipoolsHQ with your three to go down!