Summer is over, but it's not all bad: we are now so close to the start of another season of pigskin-flinging, toe-tapping, hard-hitting, endzone-dancing, signal-calling, zebra-bemoaning, flag-chucking, Romo-loving, clock-managing, catch-disputing, fumble-chasing, hog-mollying, edge-rushing, mail-carrying, drop-bemoaning, fantasy-sweating NFL action.
The summer was a busy one and the 2019/20 season looks every bit the corker we hope for.
How was the draft and what has it taught us?
A bit of housekeeping to get you caught up: Kyler Murray went to Arizona with the first pick, as expected, and the Cardinals drafted wide receivers aplenty to show us that they mean business with the new offense system – a variant of the so-called Air Raid Offense in the college leagues, which is a fast-paced and aggressive system, not seen in the NFL before. It could be a revolutionary system that shapes how teams do things in the future or it could bomb like Chip Kelly's brief stint in the NFL. No one should expect Arizona to be challenging for titles this season, but, if their new philosophy works, they will have a substantially better offense and will be more competitive than last time.
The next few teams all went defense and that included Nick Bosa, brother of Joey, going to San Francisco, where a threatening defensive line is quietly being built. Quinnen Williams went at 3 to the New York Jets and that means they have arguably the best interior defensive line in football, despite the Jets currently being a mid-ranking outfit overall. Whilst both teams could cause surprises in their divisions, it's more likely they are just short of the playoffs this year, but have the makings of good teams in the future.
The Oakland Raiders drafted high character players, which was in stark contrast to their free agency pick-ups like Vontaze Burfict, Antonio Brown and Richie Incognito, who spend more time being talked about for bad, sad or mad reasons than for their efforts on the field. It showed us all that the General Manager (Mike Mayock) and the Head Coach (Jon Gruden) in Oakland have different philosophies, but they seem committed to working together and the rest of us get to watch it all unfold, with a bucket of popcorn.
The Giants drafted Eli Manning's successor and, whilst plenty expected it to be Daniel Jones, very few would have had him going with the sixth overall pick. He's looked competent in the preseason, nevertheless, and it would not be a shock at all, were we to see him taking over midway through the season. That said, Eli seems to have been on a fitness programme in the offseason and looks sharper than he has the past couple of seasons, so he is clearly not looking to give his wicket away cheaply.
The Bengals drafted an offensive lineman early last year and did the same this year. Jonah Williams has star potential at the position, but he then got injured in the preseason and is out for the entire year, which is a crushing blow for a team that desperately needs protection for the quarterback Andy Dalton and gaps for their fitness-tested running backs.
Steal of the draft could be one of a few, but running back David Montgomery in the third round could well look like incredible business for the Chicago Bears. One pick later, the Buffalo Bills drafted Devin Singletary and he looks like he will be sharing carries with Frank Gore already.
We won't know for a little while whether these picks have panned out, but we will get a sense of it soon enough.
Quiet summer?
It's the NFL…so no. Contract disputes galore, Antonio Brown burned his feet in a cryotherapy tube, the Dolphins traded their left tackle for a king's ransom with Houston, who traded edge rusher Jadeveon Clowney to add to Seattle's overwhelmingly bludgeonous front seven. Oh…and "Captain" Andrew Luck retired.
Miami are 'organically tanking' we are told, which is PR speak for 'having a rubbish team, finishing with a bad record and getting high draft picks next year to get good players'. The Dolphins players giving their all and putting their bodies on the line every day will surely be delighted to hear that. The new head coach in Miami, Brian Flores, formerly of the Patriots, has his work cut out for sure.
Most of the contract issues have been sorted now, with Zeke Elliott having agreed to accept $90M over six years. Dallas decided they had to pay. This is interesting, as most teams don't believe in keeping running backs long term nowadays. Certainly, the analytics boys think there's a short shelf-life for the types teams run in to the ground and good offensive lines and play-callers can lead you to rotating running backs on the cheap. That's not really Jerry Jones's style, though: he likes the big names and loves to sell his product. 'How 'bout dem Cowboys?!'
Trent Williams is the left tackle for the Washington Redskins and arguably the best left tackle in the NFL. He had a medical issue last season which he feels strongly wasn't handled well by the Redskins doctors and it has caused a stand-off, where he has said he won't play for the team again. Reports suggest it was a serious issue and experience tells us that, when a player no longer trusts the medical team on a sports team, the relationship is irrecoverable. He might have to come back at some point during the season, if he wants to be a free agent next season, because of the way NFL contracts work, but it is very tough to see the relationship repairing completely.
Who's still good this year?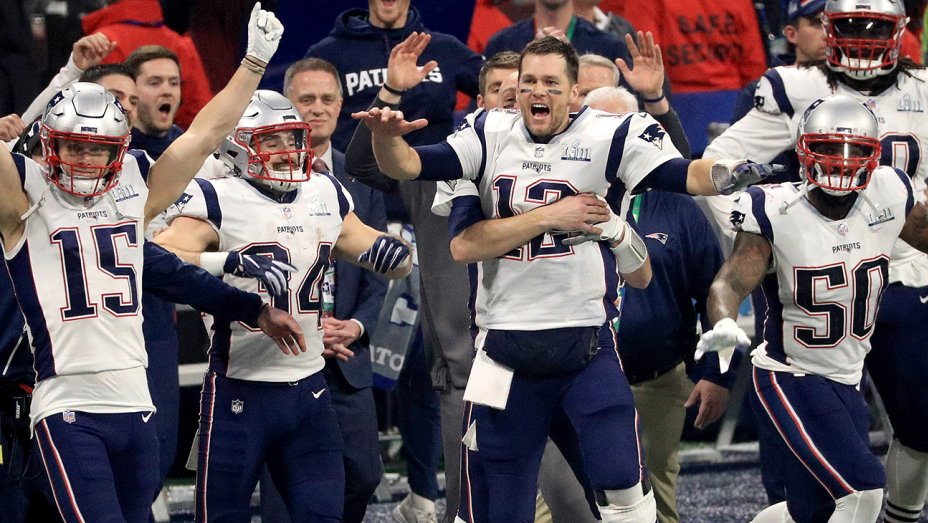 The obvious ones are obvious: New England still have Tom 'older than the Dead Sea Scrolls' Brady under center and have added some good weapons on both sides of the ball. Their division is better but not one is likely to challenge the Pats from getting another AFC East title.
Kansas City Chiefs will be rivalling them, having kept all their offensive weapons and added two good other ones: running back LeSean McCoy from Buffalo and WR Mecole Hardman through the draft. Hardman is a Tyreek Hill-style speedy gadget player and we could see some serious air being generated as Hill, Hardman, Sammy Watkins and Travis Kelce run downfield. Oh and if you send lots of defenders to look after them, the running backs will have a field day. Good luck covering them, NFL defenses!
In the NFC, Philadelphia have more depth than any other team in their two lines and that counts for a lot. The LA Rams should still be strong with a wide-ranging offense and a talented defense.
Who's still bad?
Frankly, Miami will do well to come fourth in the four-horse race of the AFC East. The Giants have some really big holes on both sides of the team. The Bengals have a gaping hole in their offensive line and the Redskins seem to have annoyed their star player. Arizona could be anything, though the bookies believe they won't be much.
Who are the dark horses?
The NFL is a league of fast improvement, thanks to levellers like the salary cap and the draft. It is common to see one team go from worst to first in their division each year and teams who were mid-table can suddenly spring to life. The Carolina Panthers are a number of sharp people's tips to win a competitive NFC South. The Jacksonville Jaguars might be the team that capitalises on Andrew Luck's retirement in Indianapolis in the AFC South, with a new QB in Nick Foles from Philly and a defense bolstered by the superb edge threat Josh Allen.
It seems absurd to talk about Baltimore as a dark horse, given they won the AFC North last year, but everyone is talking about the Steelers getting their mojo back, having got rid of Antonio Brown and Lev Bell, and the Cleveland Browns are the public's fancy to win the division, having finally started to turn their picks into players. Baltimore have a new offensive system and Lamar Jackson has looked better throwing the ball in preseason. He's developing and the team's acquisitions have filled gaps from last year. They could be a surprise team to go deep this season.
Atlanta have invested in their offensive line and will be hoping to have less rotten luck with injuries. You'd be daft to write off a team with Julio Jones in it.
Brits to follow
Christian Wade made the headlines when he converted from rugby union. Despite some fabulous highlight plays in preseason, he's not made the Bills roster, but he will have a year on the practice squad to learn his craft as a running back. He has a shot for next season, with the Bills likely to have a space on their roster next season for the position.
Efe Obada will be a regular feature for the Carolina Panthers at defensive end and, in the same division, Jack Crawford will be playing for the Atlanta Falcons. The Brit we will see most of, though, will be Jamie Gillan, who hails from Scotland and has won the starting job as the punter for the Cleveland Browns. A popular character with the team, Gillan has a bright future ahead.
Prediction time
Here's the traditional 'hiding to nothing' section of my previews.
Division winners: New England, Baltimore, Jacksonville, Kansas City; Philadelphia, Chicago, New Orleans, Los Angeles Rams
Offensive Rookie of the Year: David Montgomery, Chicago
Defensive Rookie of the Year: Ed Oliver, Buffalo
MVP: Patrick Mahomes, Kansas City
Super Bowl: Kansas City v Philadelphia (dubbed "the Andy Reid Bowl")
Champion: Kansas City Chiefs
And finally
Don't forget to have a go at the games on i-pools, and attempt to turn your NFL predictions into cold, hard cash. We've got Match Pools and Coupons for you to play every week, as well as £250 guaranteed in our week one Last Longest. We're nearly there now. I can barely wait. Good luck, everyone.