It's been more than two months since the Patriots won Super Bowl XLIII and thank goodness we can forget about that and move on to the 2020 season, says this Bills fan.
The biggest event between the Super Bowl and the start of the next season is the draft. For all the details you could want on what the draft entails, here's the beginner's guide I wrote last year I'm going to treat you as knowing the basics now, so I'll head straight to telling you about what the 2019 edition will offer us, focusing primarily on the first round.
Where's it being held?
Nashville, Tennessee, famous for country music (indeed, the Country Music Hall of Fame is there), is the Buckle of the Bible Belt. For a week, it's the home of the NFL.
When is it?
Round one is Thursday night. The other rounds are over the following two nights.
Who's picking where?
First pick this year goes to Arizona. The Cardinals have a very weak roster and a new head coach, Kliff Kingsbury (no really, Kliff), who's the latest guy under 40 to be given a top job in the big league. At 2, San Francisco benefit from their QB's injury last year by getting to help Jimmy Garoppolo out with some high quality picks. The 3 spot is the New York Jets', who found their signal caller a year ago with Sam Darnold (who some people thought would go number one last year, but we won't dwell on that).
Oakland pick fourth and they have three first round picks this year. Their new General Manager is Mike Mayock, who was the NFL Network's top draft analyst and has been brought in to sort out a roster that traded star player Khalil Mack to Chicago and wide receiver Amari Cooper to Dallas (hence the three picks this year).
Rounding off the top 5 is Tampa Bay, who have a new head coach. Bruce Arians is one of the most popular head coaches around and has an impressive CV. He retired from Arizona but has been tempted back by the prospect of making the most of the Buccaneers' swashbuckling offensive talent.
In addition to the Raiders' three picks (4, 24 and 27), two teams pick twice: New York Giants (6 and 17 – the latter due to trading Odell Beckham Jr to Cleveland) and Green Bay Packers (12 and 30). Cleveland Browns, New Orleans Saints, Chicago Bears and Dallas Cowboys will all go into Thursday night without a first round pick. They can trade up if they want to, but I'd be surprised if any of these four got involved on Thursday. They'll wait their turn, or at least wait until they get close to it.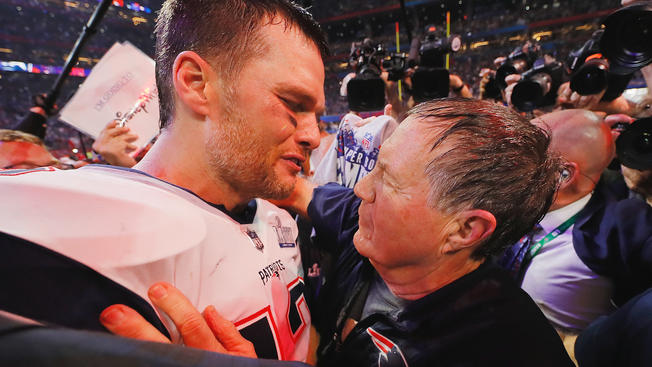 Movers and shakers
Trades are a common feature of the draft. They're one of the things that makes the draft so much fun to watch and frankly so flipping difficult to predict. Some teams love to do a bit of wheeler-dealing and some would much rather stand pat. The top few picks will largely stay where they are, in all likelihood, unless something completely outrageous happens. The Jets and the Buccs have both indicated an interest in trading down, should anyone want to move up.
Teams moving up in the 1st round tend to be after a quarterback. The idea is to jump ahead of any other suitors, albeit having to pay a price for doing so, in the form of whatever they had to exchange for moving up (picks, players, even coaches in theory).
There will likely be a move or two in the top half of the draft, possibly depending on what happens to two QBs: Dwayne Haskins and Drew Lock. If someone wants one of them, there could be a bit of jiggery-pokery going on in the top ten, as Denver seem to want Lock at 10 and the New York Giants may well want Haskins at 6. It's unlikely anyone will move up for a non-QB in that top half.
In the bottom 16 on Thursday, there's a lot of scope for teams with similar needs to want to move up. There's also a situation where a team who has their eyes on a player see him go somewhere else, then the next players on their draft board are likely to be available later on, so they elect to trade down, secure some capital and then get their guys a few spots down. Win-Win.
The third sort of trades in the first round will be at the very end of the round, where teams might look to move up from the second round into the first. This is because of what I wrote about last year, and how the extra year teams can contract rookies, when they're drafted in the first round. If you have a guy in mind who might not be effective in 2019/20, but you'd expect will be later on, that extra year on a cheap contract will come in very handy and is often worth the risk. Equally, if you're one of the better teams and sitting at the bottom of the first round, you can get a bit more draft capital by dropping down a few spots, given you're likely picking players for a team looking to win this year, rather than being prepared to wait for next year.
The Seattle Seahawks only have 4 picks across the entire draft, while the New England Patriots have 12. This might mean the Seahawks trade down, in order to swap a pick for a couple of lower ones. It might also mean the Patriots use picks to move up. Or they could stay put and be aggressive in their selections, choosing a few players with high upside but with high risks.
There are bound to be a few trades on the night, with most being a handful of places to facilitate a jump or because a team just couldn't risk not getting the guy they wanted. There might, however, be a big move: a team could jump up ten or more places in an effort to secure (most likely) a franchise quarterback. The most obvious candidate for that are the Washington Redskins, who are a bit of a mess under center.
The most impactful player in the draft isn't in it
Last year, the Arizona Cardinals traded up to take QB Josh Rosen at pick 10. He was furious at the teams who passed on him and vowed to show them all what a mistake they had made. 12 months on, after a season in which the Cardinals finished with the worst record in the NFL, replaced their head coach and appear to be embarking on a completely new offensive system, Rosen finds himself rumoured to be unwanted in Arizona. It's really not his fault: running back David Johnson had a poor year back from a long injury; an ageing Larry Fitzgerald couldn't do all the wide receiver work on his own; the offensive line suffered a glut of injuries so there was neither consistency nor protection for Rosen, who, being a rookie, needed both. Apart from that, Mrs Lincoln, how did you enjoy the play?
Kliff Kingsbury is a maverick coach who will bring a college-style offense to Arizona and that is not the sort of system that would suit an NFL-style QB. He infamously said last season that, if he were in charge of the team with the number one pick in the NFL, he'd take Kyler Murray of Oklahoma. Well, now he is the head coach of the team with the number one overall pick and Kyler Murray has declared for the draft. Life comes at you fast, eh? Murray is the perfect fit for Kingsbury's system. It seems highly likely that this means Josh Rosen won't be in Arizona by September and might well be gone in the next week.
The QB needy teams who might want him probably won't offer a first round pick for Rosen. If a team doesn't get him, though, they might be forced to make a move to jump up in the draft and get a QB from this year's class. The Redskins are certainly one of those teams and have been closely linked with Rosen's services. A second round pick probably will get him, if the market doesn't hot up for him. That might well bring in the New England Patriots and the Chargers, who might want to line up their long-term QB replacement.
Who to choose?
We discussed last time that some teams will choose a player based on what they need most (drafting for need) and some will choose based on their ranking of the players left (best player available).
This is the time of year the scouts get their chance to sit at the big table in the team complex. They have their time to shine and must make it count, as they'll be back in Randomville, Idaho in a few weeks, phoning in reports on high school kids. Soon enough, rather than enjoying foie gras and lobster in the posh restaurants of New York, they'll be on a tiny budget, sleeping in motels and eating service station cheeseburgers.
The owner tends to get to see the big board in the fortnight before the draft and that has a habit of throwing up some fun results. The owner might have a view on the football side of the business but they'll certainly have a view on the image of the franchise. The scouts might love a player who can run like a greyhound, evade tackles like he's smothered in butter and catch a ball like he has had Andre the Giant's hands replace his own. But, hang on…he expressed some views about something politically sensitive a couple of years ago and this team is in a state with a strongly opposing view on the subject? 'He's not going to be a good fit for our franchise', the coaching staff are informed. And that will be that. The owner is writing the cheques, after all.
Think I'm joking? Well, edge rusher, Nick Bosa (yes, Joey's brother) has deleted a load of old political tweets. There are some teams where comments like that won't go down well with the fans. Indeed, it could prevent him from being drafted by those teams and that will cost him money, because of the way rookie contracts are structured. He is expected to go very high this year and he has wisely elected to appear as marketable as possible for those who want to fork out the cash.
Let's look at the players in more detail.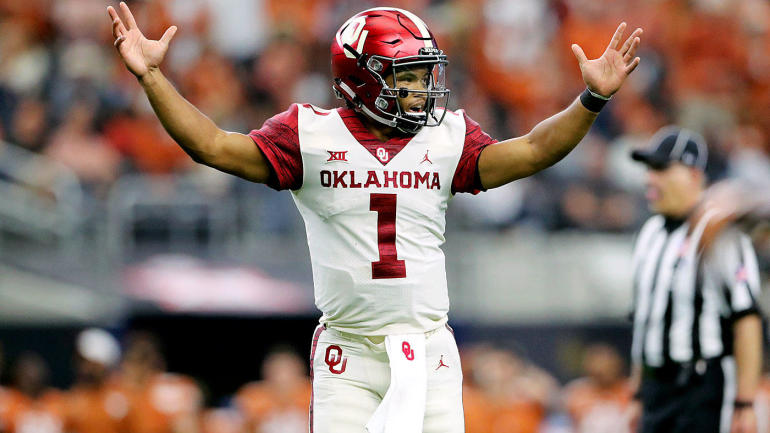 First overall pick
It's rarely a good idea to say that a given player is definitely going to go number one, but it does seem like this year's draft is close to a cert with the bookies. Last year's number one pick was Baker Mayfield, the quarterback from the Oklahoma Sooners. This year's number one pick seems like it is going to be Kyler Murray, the quarterback from the Oklahoma Sooners. Unsurprisingly, he has a broadly similar style of play to Mayfield, being mobile and a good thrower on the go. However, Murray is much nippier and will be a genuine dual threat for whichever team drafts him.
In my view, he's nowhere near the best player in this draft class. The defensive side of the ball is rich in talent in the 2019 draft class and three players stand out in that respect.
Nick Bosa is a defensive end par excellence. He is a physical specimen, much like his brother, blessed with elite technique (hand placement, body position, moves to evade defenders). He starts immediately for whoever drafts him and will be one of the first players discussed by opposing teams from week one. He has had some injury issues in college and his athleticism is an A rather than an A+, which might put some teams off, but it's very unlikely we see him drop out of the first few picks.
The second pass rusher is Josh Allen of Kentucky (not the quarterback of the Bills). He is more athletic than Bosa but hasn't got Bosa's technical ability. Where Bosa fits a defensive scheme with 4 linemen in front and 3 behind (a 4-3 system), Allen is better suited to a 3-4 system, which sees the outside linebackers having a standing start, rather than a defensive end with his hand on the ground. So, team fit could be important here in deciding which of these two to take. By way of example, Khalil Mack (Chicago) and Von Miller (Denver) are outside linebackers, where JJ Watt (Houston) and Demarcus Lawrence (Dallas) are defensive ends. It doesn't make a big difference to how many sacks they get; it's more about scheme fit and how they get to the quarterback.
Further inside the defensive line is Quinnen Williams of the mighty NFL factory that is Alabama Crimson Tide's defense. He's 6'4", about 300lb and, like Bosa, is a technical whizz. Williams plays as a defensive tackle, which is where Aaron Donald plays for the LA Rams. He will go through the middle, rather than around the outside, to attack the quarterback. He could legitimately be the best player in the class, but it seems unlikely Arizona choose him at number 1.
Number of QBs taken in the 1st round
We can safely put Kyler Murray in there. Dwayne Haskins and Drew Lock we've already mentioned. These seem very likely to be going in the top 20. Then, partly owing to the position being overvalued and partly owing to that magical fifth year contract option, we look at players like Daniel Jones of Duke. He has attracted some interest over the last few weeks and some insiders believe there are teams who are quietly very keen on him. The question is whether those teams need and want him badly enough to pass on other, apparently better options elsewhere. Will Grier of West Virginia would be number 5 in a lot of lists. Again, he'd feel like a stretch, but the desire for a franchise QB is well-known and here to stay.
Running backs
2019 does not offer a strong class of running backs. Indeed, the combine was a disaster for this year's crop, who either missed it through injury or performed badly. Elijah Holyfield (Evander's son) had an atrocious day and managed to replicate it in his own pro day. He went from being a third round prospect to being the subject of speculation about whether he would go undrafted.
Josh Jacobs of Alabama seems to be the consensus best player, which is interesting as he hasn't played many snaps in college and there will be a little more guesswork than usual needed by the teams drafting him. Jacobs is the only one presenting with first round talent but could easily find himself dropping out of the first round, as other players get taken around him.
Some teams might prefer David Montgomery (a Kareem Hunt style patient runner) or Miles Sanders (a safe all-rounder who had to wait his turn behind Saquon Barkley). These are the most likely choices if Jacobs doesn't go first.
Wide receivers
One wide receiver grabbed the headlines out of the sky and sprinted towards a payday with them. DK Metcalf was already trending with a photo of his Michelangelo-sculpted gym snap. Then he turned up to the combine. 6'3", 228lb, a 4.33 forty yard dash, 27 bench presses of 225lb and a 40.5 inch vertical leap (comparable with top NBA players). Oh, and a rumour about having less body fat than Bruce Lee. Against that incredible hype is a concern about his route running ability: his relative lack of ability to change direction will present a problem for teams who like to run sophisticated plays, but a team that wants to throw it up and let him be physical will love having him around.
If Metcalf doesn't float your boat, his teammate at Ole Miss, AJ Brown, might be your guy. He projects to be an elite slot receiver and could make the move of a similarly framed player, Juju Smith-Schuster, to switch outside as a number one receiver. There's also Marquise 'Hollywood' Brown of Oklahoma, who's the top deep threat receiver in the class (and happens to be Antonio Brown's cousin, so will the Raiders be interested towards the end of the first round?). N'Keal Harry of Arizona State is probably the only other wide receiver with a realistic shot of being called first and he is a traditional outside receiver.
Tight ends
There are two superb ones in this class and a number of good ones for the mid rounds. Both of the superb ones have come from Iowa State, interestingly. TJ Hockensen could go top 10 and Noah Fant will be in serious consideration for a 1st round selection. Both catch well, run well and block well already. Could the Patriots try to find their replacement for Gronkowski straight away?
Pass rushers
This year is a class rich in edge rushers. Quarterbacks will be disappointed to hear this news and those offensive linemen in a year where they're negotiating a new contract will be concerned about how much this lot are going to cost them. Aside from the two already mentioned, the likes of Montez Sweat (a physical freak by any metric), Brian Burns, Rashaan Gary and Clelin Ferrell will be real problems for years to come.
Offensive linemen
Another group where talent is strong and deep this year, which is great news, given how quarterbacks are getting more and more expensive (see Russell Wilson's latest contract) and protecting them from all these beastly pass rushers seems sensible (take note, Buffalo and Houston). Jonah Williams is a sharp, mobile lineman, who could play anywhere across the offensive line, though some think he might not be quite long enough to play tackle. Jawaan Taylor is a more traditional offensive tackle, which would suit Miami or Jacksonville. Injuries on the offensive line really hurt teams and having depth in that position also enables you to rotate players during games to keep them fresh. If you're a run-heavy team, you need chaps who can get upfield to block 5 or 10 yards downfield, too, and that requires mobility, even at their weight. The best center in the class is Garrett Bradbury. He really should go first round and whoever gets him will probably have a bargain.
Linebackers
On the interior, there are only really two names for the first round: Devin White and Devin Bush. Both will go high, with White possibly going top 5 and Bush possibly top 10.
Secondary
I wouldn't be surprised at all if five or six safeties and cornerbacks went in the first round this year, because, once one goes, there could be a run on them, as teams fear missing out if they don't commit now. Greedy Williams, Bryon Murphy, Deandre Baker and Rok Ya-Sin are the top 4 corners. At safety, Johnathan Abram, Darnell Savage and Taylor Rapp could all be immediate starters and will compete for spots in the back half of the first round. If not, they'll go on Friday night.
Defensive tackles
As well as Quinnen Williams, I expect Ed Oliver, Christian Wilkins and Jeffery Simmons will be disappointed if they don't hear their names called on Thursday night. Simmons is recovering from a season ending injury, but could be back for the playoffs in early 2020. He'd be ideal for a team prepared to sit him and wait, as his on-field play is superb. Keep an eye on Jerry Tillery, as he could be a surprise pick at the end of the first round.
Winning the draft
The pundits will be keen to decide who 'won' the draft. Of course, every team will claim victory and no one will know the answer until a few years later. Last year, the Indianapolis Colts made a number of selections that have exceeded expectations. Part of it is great scouting and part of it is luck, but the Colts shot up the rankings as a team last season because of the smart selections they made. Another good draft and they will be serious contenders in the AFC, having been the projected whipping boys in the AFC South a year ago.
Oakland have the chance for a similar bounce, if they can make use of their three first round picks in particular. Look for them to find a pass rusher, a cornerback and an offensive threat (possibly in that order). If they mess it up, not only will they have wasted a year, they will have done so trading away their two best players.
Speaking of not wasting time…
You can find pool games galore on i-pools, including one for this year's NFL Draft (stay tuned). There are loads of mock drafts available online (as you'd expect, everyone's got an opinion) and plenty of insight about.
Have fun picking your 32 names for the first round, where the trades will be and who will be bear-hugging the Commissioner when they come out to celebrate their selection.
If you're watching the show, however much swagger these kids have, there's a wonderful moment seeing them realise their hard work and sacrifice paid off. But, of course, the hard work is really just beginning.