The transfer window has been open for just over two weeks now but, Liverpool apart, there have been few comings and goings around the Premier League.
While Jurgen Klopp's side have waved goodbye to Philippe Coutinho, collecting £142million from Barcelona and splashing £75million of it shoring up their defence with the protracted signing of Southampton centre half Virgil van Dijk, both those pieces of businesses can be traced back to the summer and may even have been agreed then.
And with Manchester City running away with the title, eradicating the need for desperate teams to make their challenge count by paying mid-season premiums, could this be the least exciting transfer window ever?
Spending has rocketed since the very first January transfer window in 2003, when Premier League clubs collectively spent around £45million. Although the upward trend hasn't always been linear, the direction has undoubtedly been higher and higher, peaking at the record £223million in 2011, a figure all but matched in 2017 at £218.5million.
While the Van Dijk transfer has started this window with a headline catching bang, City's dominance means the usual scramble to outdo each other at the top of the league is unlikely to happen.
The bookies are already paying out on City, while Manchester United and Chelsea look set to finish second and third, securing Champions League football without getting close to a title challenge. The race for fourth may be the spark this transfer window needs, if it gets one at all.
Liverpool are third, level on points with fourth place Chelsea, three points ahead of Spurs in fifth, who in turn are five points clear of their north London rivals Arsenal but there's still a long way to go in the season.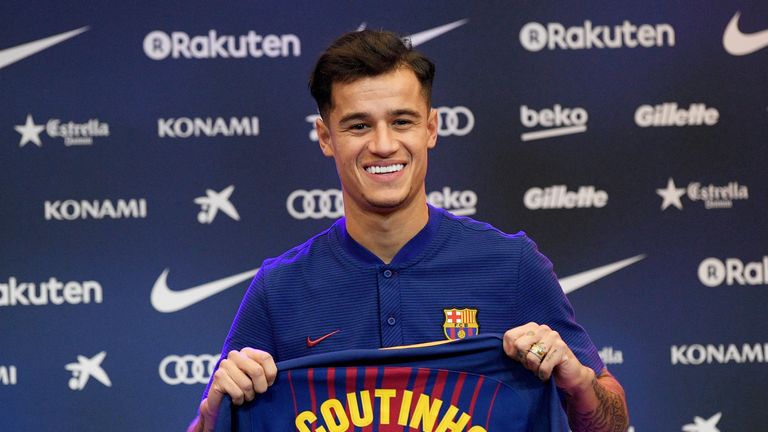 Klopp's men have made their moves early, but as good as Van Dijk is, it's hard to argue that they've improved, given the loss of creative genius Coutinho at the other end of the pitch.
Spurs look settled into their long term vision and it's hard to see where they'd mould a big money signing into their line-up, while Arsenal are in such a period of upheaval, with so many big name stars out of contract this summer and the manager always seemingly with one foot out of the door these days, it's difficult to see their board okaying big spending mid-season when they may be looking ahead to a summer of huge investment.
Everton have dipped their toe in during this window, signing striker Cenk Tosun from Besiktas for £27million, but going into the season without a recognised striker having sold your star man to Manchester United for £75million in the summer will do that. Bar the Blues, there doesn't seem to be reason for the mid table teams to pay the undoubted premium for players in the middle of the season.
Of course the scramble to keep your place in the big time could prove more than enough reason to break the bank and the bosses of the teams in the lower reaches of the league wouldn't need asking twice if offered the chance to improve their teams.
 But with 10th placed Watford only six points above of the relegation zone, and bottom two Swansea and West Brom only four and two points adrift, it may be that the desperation levels haven't been reached where it's time to get the cheque book out rather than work with what they've got.
The Baggies and Swans both have relatively new managers, so do the other team currently in the drop zone, Stoke, and those new bosses may want to do some wheeling and dealing to improve their squads.
West Ham and Palace have also changed manager since the summer window, while Newcastle are hoping to make changes at the very top with the club up for sale, all of which may provide some impetus for January spending.
But it looks just as likely that clubs are happier to change manager but in employing their new man they expect him to be able to do more with the assets they have rather than go out and acquire more.
Every football fan looks towards the January transfer window as some kind of salvation for their stagnant season - indeed this year Sky Sports even had a countdown to the close of the window before it had even opened - yet this year could prove eerily quiet.
Whether they should stick or twist may only become obvious at the end of the season.
Feel free to tweet us @ipoolsHQ with your opinions on the transfer window!