Manchester City have been crowned Premier League champions after a season that they have dominated from start to finish.
While they fluffed their lines and missed the dream opportunity of winning the title by beating their cross city rivals Manchester United, a dominant victory at Tottenham coupled with United embarrassing themselves at home against the bottom club allowed us to write the headline that West Brom have won the Premier League….for Manchester City!
The United defeat, and losses home and away to Liverpool either side of it in the Champions League, shouldn't take away from how much better than the rest Pep Guardiola's side have been this season.
City have been head and shoulders above, and it's been just a matter of when not if they secured the Premier League trophy. They have a chance to set a new record points total and winning margin, but are they the greatest team in Premier League history?
Here's five teams that could also lay claim to that accolade and would give the 2017/18 City team a run for their money:
Arsenal 1997/98
As the Premier League began to transform into a league featuring the best international players in the world, this Arsenal team typified the best of both worlds. At the back, David Seaman stood strong behind one of the all-time great back fours, made up of another four Englishmen, Dixon, Adams, Bould (or Keown) and Winterburn. Ahead of them, the protection was provided by a pair of Frenchmen, Petit and Vieira, and new signing Marc Overmars joined Ray Parlour in midfield.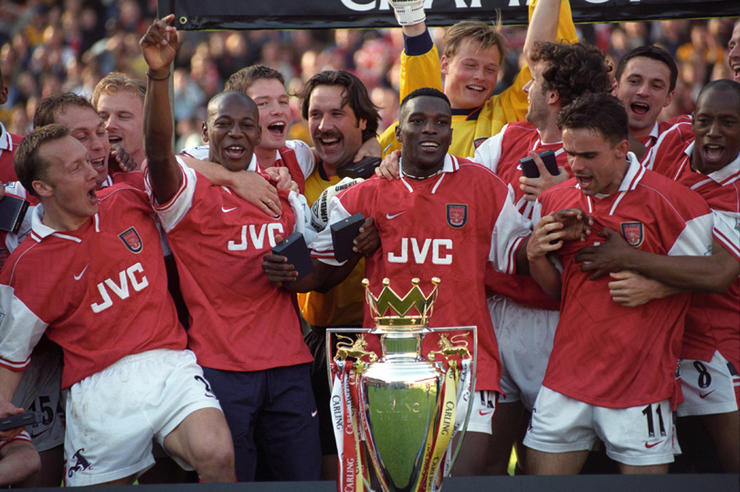 Up front, Ian Wright broke Cliff Bastin's Arsenal scoring record while young pretender Nicolas Anelka learnt the ropes, with Bergkamp providing the ammunition. The Gunners started this season slowly, but pegged back Manchester United's 12-point lead with a run of 13 wins in 14 games, 12 without conceding a goal, which helped Arsenal snatch the title.
Would they beat City? Going forward this Gunners side would cause City problems, but the pace and guile of Pep's attacking players would provide match up nightmares all over the place and I'd take City to win this one.
Chelsea 2004/05
The self-proclaimed Special One arrived on these shores telling all who would listen he was the best, and he wasn't far wrong. Jose Mourinho's debut Premier League season saw Chelsea set a record for most points in a season at 95, a total that City could surpass this season of course.
Mourinho built this team on defensive solidity, conceding just 15 goals in a season featuring 25 clean sheets, more Premier League records.
Arjen Robben, a summer signing from PSV, provided the impetus when he made his debut in November, bringing some much needed flair and balance to a solid side featuring Damien Duff on the other flank.
Didier Drogba, another summer signing, acclimatised to his new surroundings well, but really it was the back four, with Claude Makelele patrolling in front and Petr Cech bailing out behind, who were the stars. John Terry, Ricardo Carvalho and William Gallas were joined by right-back Paulo Ferreira to form the most difficult to break down team of a generation.
Would they beat City? This Chelsea team was one of the first to play the 4-3-3 that so many teams rely on in today's Premier League. They were so hard to break down, but in De Bruyne and David Silva, maybe City have the players that could pick the locks. I'd take City.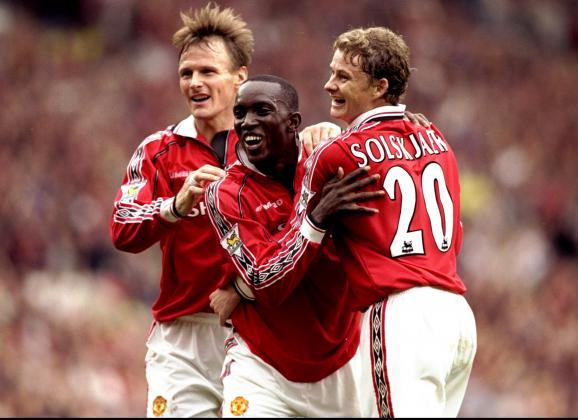 Manchester United 1999/2000
While the Treble winning side of a year earlier may appear on many lists, this United side was even better. Based on the success of 1999, it still featured arguably the best midfield foursome in Premier League history - Beckham, Keane, Scholes and Giggs - and that deadly forward line of Cole and Yorke with Sheringham and Solskjaer ready to step in.
Having won the league on the last day of the previous season, this United won it by a ridiculous 18 points, scoring 97 goals along the way, increasing the previous year's totals by 12 points and 17 goals. The only weak point was having Mark Bosnich in goal, which got worse when they signed Massimo Taibi mid-season. Fabien Barthez was brought in to solve that problem at the end of the season.
Would they beat City? The midfield battle would be worth the admission price alone and this would be really tight. It might be won or lost by taking one chance, and I'd take City's Aguero over United's Cole any time.
Manchester United 1993/94
The second ever Premier League season was won by a United side made up of all-time greats. Schmeichel in goal, a back four of Parker, Pallister, Bruce and Irwin and new signing Roy Keane joining Paul Ince in the middle of the park.
The width was provided by a combination of Giggs, Sharpe and Kanchelskis while Eric Cantona provided target man Mark Hughes. Unsurprisingly with that line up they dominated the title race this season, leading by as many as 16 points.
A mid-season wobble saw them get pegged back and were only ahead on goal difference in April before they finished the season with a bang, amassing 92 points and taking the title by eight points. United added the FA Cup to win their first ever Double, just the fourth in history and the first since Liverpool in 1986.
Would they beat City? This team has superstars all over the pitch. While Bruce and Pallister might struggle to keep up with Aguero, Cantona and Hughes would provide just as stern a test for City's defence. I'd back a score draw!
Arsenal 2003/04
The Invincibles; the first team in more than a hundred years to go through a whole top flight season unbeaten. In fact the 38-match unbeaten season dwarfed the 22 games Preston managed in 1888-89, and was part of a longer record of 49 top division games without defeat between May 2003 to October 2004, besting Nottingham Forest's 42-match run from November 1977 to November 1978.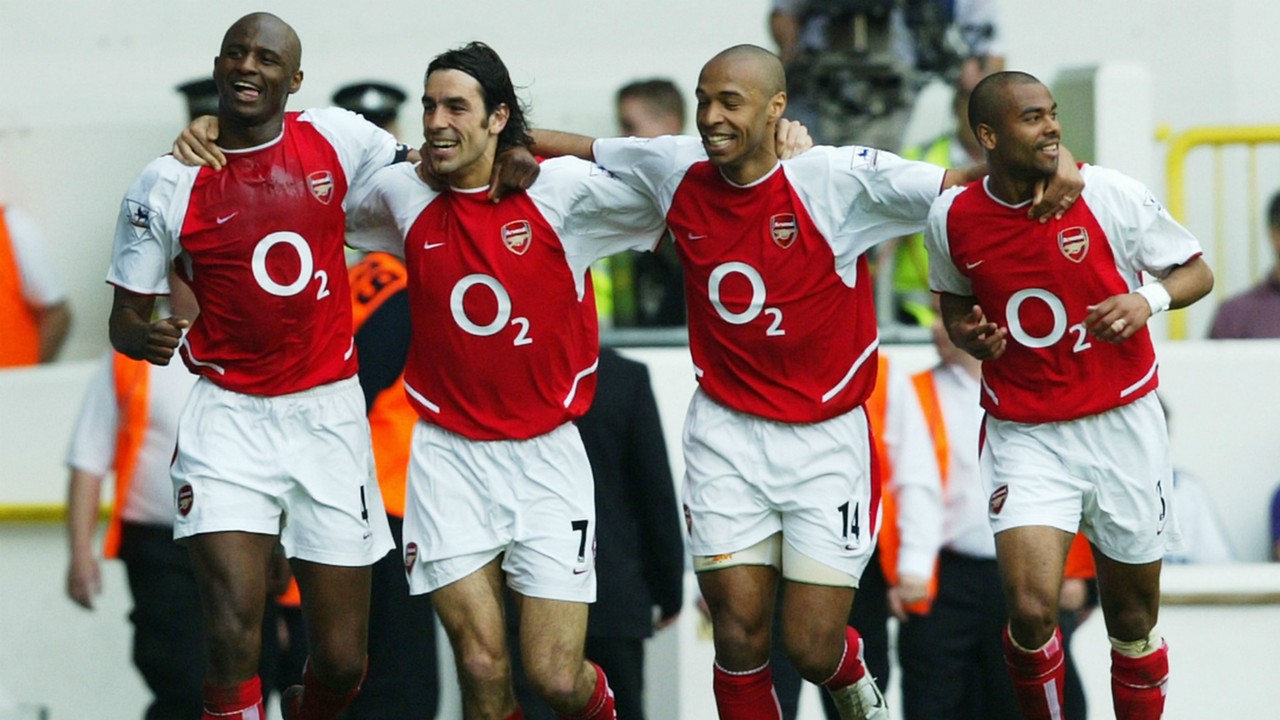 Unbeaten records can sometimes be associated with defensive football, but not this team, with Bergkamp and Henry up front and Pires and Ljungberg huge goal threats from midfield. Gilberto Silva and Vieira provided the steel in the centre of the park, with a back four marshalled by Sol Campbell and Kolo Toure with Lauren and Ashley Cole dependable at the back and providing width going forward.
Jens Lehmann was in fine form between the sticks for a team that scored the most and conceded the least, a pretty deadly combination.
Would they beat City? This team could really give City a game. Solid at the back, strong in midfield to combat the likes of De Bruyne and David Silva, and the guile of Bergkamp and pace of Henry would really trouble City's centre halves. I'd back them to beat City.
Comment below or tweet us @ipoolsHQ, if you agree with us or if we've missed any team out!