The 2018 NFL season starts on Thursday night, so it's time to get the jersey out, apply the under-eye black stickers and polish those cleats once more.
What happened last year?
The AFC conference was won by perennial dominators, the New England Patriots, though the Jacksonville Jaguars impressed, particularly in defense. The Cleveland Browns registered a gut-wrenching 0-16 record, somehow eclipsing the previous year's 1-15. As the clock struck midnight in the UK to welcome in the new year, a dramatic touchdown in the Bengals v Ravens game meant that the Buffalo Bills made the playoffs for the first time since 1999…not that they lasted long in January.
In the NFC, the Philadelphia Eagles hadn't threatened much in their division for a fair few years, but a young QB in Carson Wentz, an efficient offense, a nasty defense and two good sets of linemen made them conference champs. Well, that's not the complete story, as Wentz got injured as the playoffs dawned, leaving backup, Nick Foles, under center. [Cue the patriotic, dramatic, flag-flying music in the background that accompanies every American sports movie ever] Foles barely flinched, defying expectations and the naysayers, instead leading the team to the big dance.
Super Bowl LII was a high scoring affair in which the Patriots couldn't mount the comeback they managed the year before. Nick Foles the unlikely hero, the Eagles the unlikely victors and the Patriots the unlikely bridesmaids.
What's happened since?
The first thing to mention is the draft. The Browns chose first and picked a surprise in QB Baker Mayfield, over the more fancied choices of Sam Darnold (who went to the Jets) and Saquon Barkley (Giants). Buffalo, Arizona and Baltimore all drafted QBs early, with Pittsburgh and the Giants each picking up a QB as a long-term replacement.
As for the other names we discussed at the time, the Colts picked up offensive lineman Quenton Nelson to help protect the returning Andrew Luck, the Chargers took safety Derwin James to smarten up their play against short passes and tackle-breaking runs, the Browns went at pick 4 with cornerback Denzel Ward, and edge rusher Bradley Chubb went to Denver, where he'll pair up with Von Miller (gulp!).
As ever, what followed over the summer was a number of big named players haggling for new contracts. Indeed, some of these are still going on: Le'Veon Bell of the Steelers, still looking to be the highest paid running back and more, being the most notable.
As for defensive superstars, there's a tale of two Californian cities: the LA Rams managed to make a few adjustments in the contracts of other players in order to free up enough salary cap space for Aaron Donald's megadeal. Meanwhile the effect of this was that Oakland's Khalil Mack wanted something similar (read: better), as the last guy to get a deal often gets the best deal. Mack's relationship with Raiders Head Coach, John Gruden, isn't famously lovely and something had to give. In the end, it was the Raiders who pulled the plug, trading Mack 2,000 miles to Chicago, in exchange for two first round picks in future drafts.
AFC contenders for 2018
The obvious starting place is New England. The Patriots have Tom Brady at QB. He's 41-years-old, married to a supermodel, won five of the eight super bowls he's been to, earned something like $200,000,000 in salary alone and…yet…he's still playing at the very highest level. With no sign of letting up, the age-defying 'TB12' is likely to be at the helm of another strong playoff run. The Pats enjoy one of the least competitive divisions in world sport, which enables them to make the playoffs consistently and gives them a great chance of home field advantage when it really counts.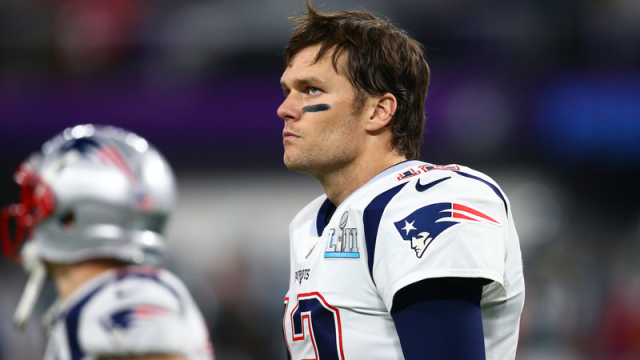 Behind them in the AFC hunt are the Pittsburgh Steelers – another team with a veteran QB in Ben Roethlisberger, but also with one of the very best running backs (Lev Bell) and wide receivers (Antonio Brown) – and the Jacksonville Jaguars (an elite defense and an offense designed to score just enough points to win).
Whilst the NFL's nature means that teams can go from worst to first quickly, these three teams will be up there in December. It's just a question of whether one of the chasing pack can do enough to challenge them.
NFC contenders for 2018
A much harder one to call. The division's are inherently more competitive and no team is promised safe passage to January, like the Patriots are in the other half.
The Eagles will find defending their title tough, as they have the Giants (a mouth-watering offense) and the Dallas Cowboys (who seem to alternate good and bad years and this is their due good year) in their division. The Minnesota Vikings also have their hands full against the Aaron Rodgers-led Green Bay Packers, the promising Detroit Lions and Khalil Mack-buoyed Chicago Bears.
The New Orleans Saints have to survive a division containing Cam Newton's Carolina Panthers and the Super Bowl LI runners up, Atlanta Falcons. The closest to a good thing would be the LA Rams, who head a West division that has promise but less momentum than they seem to be enjoying. It's basically anyone's guess who makes it through this half as champ.
What about the poor old Cleveland Browns?
Talk about a sad state of affairs. Newcastle United fans are happier with the way their club is being run. It's been a complete shambles for a few years. They tried to bring in a Moneyball system, focusing on getting maximum value for their recruitment and decision-making. It wasn't embraced wholeheartedly (for various reasons), they had some bad luck and the whole thing went utterly to pot (much like some of the players).
A win-loss record of 1-31 over two seasons would be enough for most head coaches to be found a special exit door, next to which a blue plaque would be affixed, such is the scale of failure. Not Hue Jackson, though, whose agent must presumably be vying for a sponsorship deal with Teflon.
They had two first round draft picks this year and chose the metrics guys' favourite QB, Baker Mayfield, and a superb defensive back in Denzel Ward. This means they have strengthened on both sides of the ball and the roster is significantly improved, by any reasonable assessment. The defense in particular does look promising.
What's success this year for them? I think most Browns fans would just be pleased to have a season that doesn't make the annals of history. Four wins is realistic. Five would be good. Six wonderful. Playoffs and they'll be commissioning a feature length film. They might still end up with a very high draft pick next Easter, but it'll be despite a significantly improved record, rather than because they were as rubbish as before.
One note in all this is they did run significantly below expectation last year (their points scored and against would lead to around 4 wins, in a vacuum, on the Pythagorean model), partly due to bad luck, partly due to poor execution and partly due to atrocious decision-making in key situations. Two of those three are within their control, but we will have to see whether they have addressed them. There can't be much improvement without that.
Cleveland sport has been terrific in the last few years, with the Indians and the Cavaliers making waves in the other two major sports in the US. The Browns won't be joining them this season, but they should expect to be better than they have been of late.
A cheat code for spotting success and failure
Everyone focuses on the star players in any sport; the ones who feature in the 'plays of the day' reels, the guys whose catches, throws and runs go viral; the big contracts; the Instagram advertisers; the fashionistas.
Great sides have good offensive lines. Five blokes whose job it is to protect the quarterback from getting clobbered as he looks for passes (the longer the pass, the longer the time they need to protect him for) and to make gaps so the running back can get a clear run, helping the team make steady progress. Having a line that can do both is the elixir of life teams should yearn for. They can make mediocre running backs look like barnstormers. They can give average QBs time to find passes they couldn't make consistently under pressure. They can enable wide receivers to find space and have more accurate, catchable balls thrown their way. They're so often the unsung heroes in good sides.
The five positions are Left Tackle, Left Guard, Center, Right Guard and Right Tackle. Tackles are taller with longer arms, because they have to deal with more mobile athletes trying to run around the line to biff the QB. The Left Tackle defends the blindside of a right handed QB, so he tends to need to protect the side most frequently attacked. The middle three are more like a rugby front row: stout Guards built for getting in the way and pushing opponents out of it, either side of a Center who snaps the ball to the QB and then joins in the duties.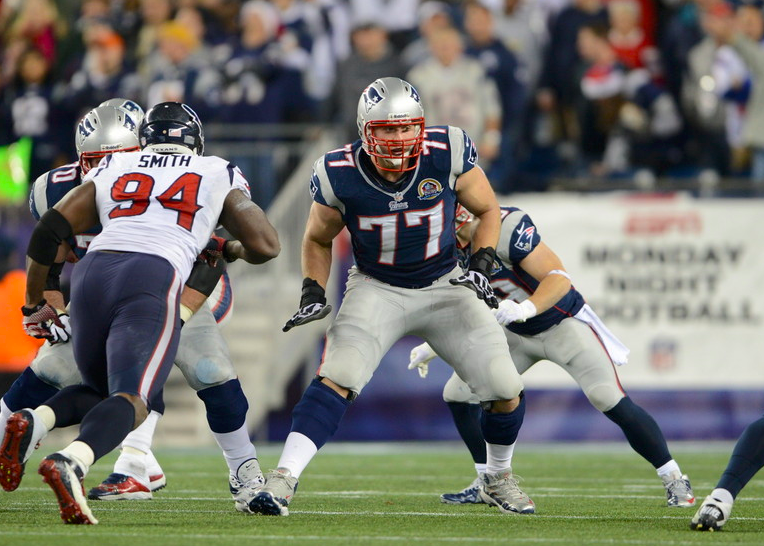 Teams that improve their offensive line have a habit of doing better. The New York Giants have taken long enough to work that out, bringing in Nate Solder from the Patriots as a new Left Tackle. The Cincinnati Bengals have done similarly, bringing in Cordy Glenn for the outside from Buffalo and drafting Billy Price for the inside. The Detroit Lions surprised a few by taking Frank Ragnow as early as they did in the draft, but they have a plan of finding mobile guards who can get upfield quickly and block for running backs who want to get big plays.
There's nothing more frustrating as a fan than having a team with all the talent in the world in skill positions, but which can't win games because the offensive line is leaving the quarterback running for his life every other play, as 18 stone monsters set about mauling him. Actually, maybe one thing: the team not addressing it in the offseason.
Commentators do a good job on a play-by-play basis of highlighting the good work of linemen in enabling offensive plays. Equally, when linemen screw up, you can be sure to see some yellow pen on the screen, showing you how badly. These nuggets are worth taking note of, when you're watching, however innocuous they might seem. They can help you get ahead of the curve in assessing a team's prospects.
How about some predictions?
This is never a good idea for writers of these articles. Teams go from worst to first quickly and regularly, because of the way the draft and the salary cap encourages parity. The league is horribly difficult to predict, with injuries, refereeing decisions and weather madness having a big impact over a short, 16-game season.
The nature of the NFL is that you have to try to get ahead of the curve when putting your money down. Last year's records are further in the past than they are with any other sport. It's a fresh page. Every preview you read will have things you'll look back on in three months at and wince, as these bold choices whiff and the winners seem so obvious with hindsight. It's what makes this such a wonderfully compelling sport to follow.
Ok, having said it's a nightmare to make predictions, let's have a go anyway…
Most passing yards: Tom Brady. Currently second fav with the bookies, but very little between him and Drew Brees of the Saints. This is a year where I expect the Patriots to dominate and they'll pass a little more than they did last year.
Most receiving yards: Julio Jones. The Falcons have had a year to work with a new offensive system and they'll have to find a way to get their star receiver more involved in key situations.
Most rushing yards: Todd Gurley. Depends a little on whether the offense can do what it did last year, but the LA Rams have a lot going for them. Gurley has improved a lot in the last couple of years, having been something of a boom or bust type before. Now much more consistent.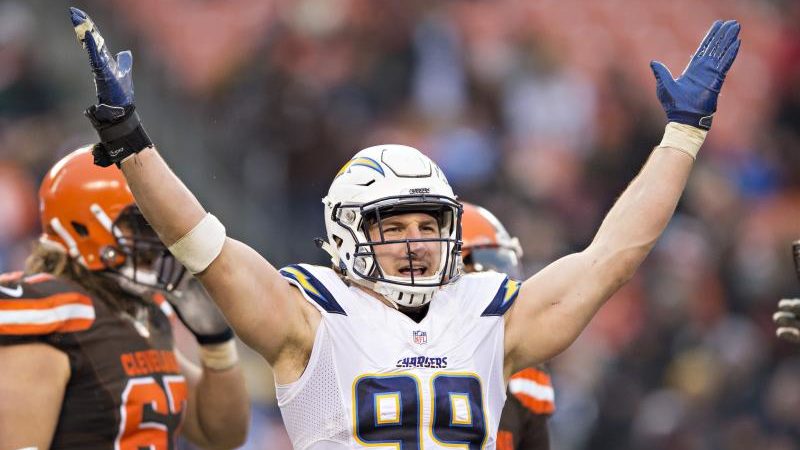 Most sacks: Joey Bosa. An emerging force in an emerging team. The Chargers will pose a threat in the AFC this year, though whether they can do enough to challenge for top honours remains to be seen. Bosa was near enough unblockable at times last season and will enjoy a schedule with some weaknesses in offensive line.
AFC Champ: New England Patriots. Too much talent for most, too smart for the rest.
NFC Champ: Atlanta Falcons. Clever defense and an offense that is helped by bringing in Guard Brandon Fusco in the offseason from San Francisco. All the weapons you could want.
Super Bowl LIII Champ: New England Patriots. Tom Brady's tough old life gets one ring better. Bill Belichick musters a smile. Everyone else is sick of watching it.
A final word
The NFL is the perfect sport for the punter, with enough variance to give everyone a chance, but with the information available to help the sharp guys find value.  Whoever you're rooting for this season or even if you just enjoy the show, make sure you have a look at the markets on offer at ipools.